COVERAGE
-Boston Globe

LINKS
-JFK Library

NECN REALVIDEO
-Kennedy Memorial, P2
-kennedy Memorial, P1
-A burial at sea
-Body of JFK Jr. found
-Kennedy statement
-Friends pay tribute
-Bessette Kennedy obit
-Bessettes' heartache
-Get RealPlayer | Help
-NECN Web site

LATER NEWS
NTSB official blasts media

Trees planted in Israel for Kennedy

NTSB: No signs of breakup, fire

Kennedys return to work on Capitol

Engine brought to Williamsport

Memorial held for Bessette sisters

Wreckage to Coast Guard Station
Carolyn Bessette Kennedy: from shy student to accomplished celebrity wife
By Nathan Cobb, Globe Staff, 09/24/96
Globe staff writer Joseph P. Kahn and Globe correspondent Suzanne C. Ryan contributed to this story. Material was also included from wire services.
The details emerging from the very private wedding of John F. Kennedy Jr. to Carolyn Bessette on Saturday include no small amount of Kennedyabilia. How the groom wore his father's watch during the double-ring ceremony off the coast of Georgia, for example. How Caroline Kennedy Schlossberg was matron of honor. Or how the best man was JFK Jr.'s cousin, Anthony Radziwill.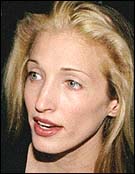 Carolyn Bessette Kennedy (AP Photo)
It's almost as if Carolyn Bessette wasn't there. And that's the way it's been for much of her life, ever since she appeared on the page of her Boston University yearbook that is reserved for ''camera-shy graduates'' who didn't care to have their pictures taken.
Perhaps that's one of the things that makes her so attractive to Kennedy, a man obsessed with privacy. In any case, there really is a Carolyn Bessette. Here, then, is the file on the latest Princess of Camelot:
The Basic Stuff: She's 30 years old, 5 feet 9 inches tall, has blonde hair, blue eyes, and a broad, flat face that looks rather . . . well, Jackie-esque. Her middle name is Jeanne, which means she could heretofore be known in tabloid headlines as CJB, unless, of course, she becomes CBK. That decision hasn't been reported.
Deep Background: She was raised in Greenwich -- the Weston of southern Connecticut -- and is the daughter of William Bessette of White Plains, N.Y., and Mrs. Richard Freeman of New Canaan, Conn. Her stepfather, Dr. Richard Freeman, is an orthopedic surgeon. She spent two years at Greenwich High School before transferring to St. Mary High School, a defunct Roman Catholic institution also in Greenwich. She graduated in 1983.
Evidence Her High School Classmates Knew What Was Ahead: They voted her ''The Ultimate Beautiful Person.''
The BU Years: She came to BU right after high school, majored in elementary childhood education and received a bachelor of science degree in January 1988. She is described as ''not overly athletic and very low-key, a nice person,'' by one college friend. She clearly didn't leave a large footprint on Commonwealth Avenue.
But Maybe She Wasn't So Camera Shy After All: Boston photographer Robert DiMarzo said yesterday he took several photos of Bessette while she was a student at BU but wouldn't say what they were for. One buzz at BU is that Bessette was one of several coeds who posed for a ''Women of BU'' calendar that was sold at the university's bookstore during the 1980s. No such calendar could be located yesterday.
The Dating Game: At BU, Bessette dated John Cullen, a Canadian-born hockey star who became one of the school's all-time leading scorers. Cullen, now with the Tampa Bay Lightning, yesterday declined to discuss Bessette.
Postgraduate Gig: Although she never became a teacher, Bessette is said by a former college classmate to have considered social work. Instead, she ended up doing marketing in Boston for That's Entertainment, a part of the Lyons Group nightclub consortium. Joe Verange, who brought her into the firm, remembers her as ''a good schmoozer, a good networker.'' She staged parties at a variety of Lyons clubs -- including Citi (now Avalon), Axis and Zanzibar -- for such clients as Reebok, Lotus and Manufacturers Hanover.
Big Break I: Bessette lived in Boston's South End and worked long hours. One day she was spotted walking on Newbury Street by some employees of Calvin Klein Ltd. They asked her to work in the firm's Chestnut Hill Store, and she quickly accepted. ''She was obviously looking for more than a life of hanging out in nightclubs,'' Verange recalls.
Big Break II: When Calvin Klein himself showed up at the local store one day, according to Verange, he deemed her worthy of working at corporate headquarters in New York. She never looked back.
Big Break III: There are two versions of how Bessette met JFK Jr. The first says that while assisting celebrities looking for clothes, she was assigned to help him in the purchase of three new suits. Another says she met her future husband while jogging in Central Park. Neither has been confirmed, neither denied.
Bumps in the Road: The relationship between Kennedy and Bessette has been volatile. No one knows what precipitated their famous (and videotaped) street fight last February, when Kennedy appeared to pull an engagement ring off the finger of his betrothed. In any case, it's obvious now that he gave it back.
Stepping Out, Reining In: In a story in August, W magazine reported that the once low-key BU grad had turned into something of a party girl in Manhattan. But as her relationship with Kennedy intensifed, the fashion mag said, she toned down her behavior to please the publicity-shy Kennedy.
The Family Patriarch Speaks: Through a spokesperson, Sen. Edward Kennedy stated yesterday that ''she shares John's love of the outdoors.'' Kennedy, who attended Saturday's wedding, said that he met Bessette two summers ago when his nephew brought her to Cape Cod. ''You could tell right away there was something special with the two of them,'' he said. ''They're both obviously very deeply in love.''
OK, A Few More Wedding Facts: Caroline Kennedy Schlossberg's three children -- daughters Rose and Tatiana and son, Jack -- were the flower girls and the ring bearer. Rev. Charles J. O'Byrne of the Church of St. Ignatius Loyola in New York City flew in to perform the Roman Catholic ceremony in the island's First African Baptist Church, which has been in continuous use since being built by freed slaves at the end of the Civil War. The couple is reportedly honeymooning on a yacht off the coast of Florida and Georgia.

And one other thing -- the bride's wedding dress was designed by Narciso Rodriquez for Cerutti 1881, not Calvin Klein. Bessette left CK last spring.