By Katharine Esty and Mindy Gewirtz
Have you ever asked yourself, just how many of the employees in my organization are really engaged? If you believe it is about half, you may actually be overestimating the number.
According to a recent Gallup study on employee engagement, about 54 percent of employees in the United States are not engaged and 17 percent are disengaged. Only 29 percent are engaged. Think about the potential opportunity for human resources to tackle this challenge. In this article we present the business case for engagement you can share with your leaders and a model for creating and implementing a culture of engagement.
Definition of employee engagement
Employee engagement is defined in many ways including, "we know it when we see it."
We prefer the following definitions:
Employees are engaged when many different levels of employees are feeling fully involved and enthusiastic about their jobs and their organizations.
Engagement is the willingness and ability to contribute to company success … the extent to which employees put discretionary effort into their work, in the form of extra time, brainpower and energy" according to a Towers Perrin study.
The Business Case for Engagement
As human resource professionals, we have intuitively known for years that an engaged workforce provides many intangible benefits and can be linked to retention. In the past five years quantitative research studies have provided HR with a compelling business cases regarding the upsides of an engaged workforce and the downsides of an unengaged workforce.
The following are two specific examples of hard data linking an engaged workforce with increased profitability and an unengaged workforce with decreased profitability. Highly engaged employees outperform their disengaged colleagues by 20 to 28 percent according to the Conference Board, 2006. A 2005 study by Serota Consulting of 28 multinational companies found that the share prices of organizations with highly engaged employees rose by an average of 16 percent compared with an industry average of 6 percent.
There are also costs associated with a disengaged workforce. Disengagement has been found to cost between 243 to 270 billion dollars due to low productivity of this group according to a 2003 Gallup poll. In one 2003 study by ISR, companies with low levels of employee engagement found that their net profit fell by 1.38 percent and operating margin fell by 2.01 percent over a three year period. Conversely, companies with high levels of engagement found that their operating margins rose by 3.74 percent over a three year period.
The employee engagement model
We have developed a model that lays out the roadmap to increase employee engagement. A major point is our conviction that the best way to increase employee engagement is to focus on creating a culture of engagement. We define culture as including the practices, shared mindset and ethos of an organization. Once the culture is created, engagement becomes 'the way we do things around here' and it does not have to be recreated year after year.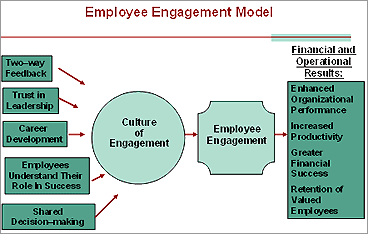 On the left side of the model are the five most important drivers of a culture of engagement. We selected these five after reviewing a wide range of research studies. Each driver must be translated into practical systems, practices and structures that are embedded in the organization.
Two-way feedback
Most organizations do well in terms of communication down from management to employees. What are often missing are mechanisms for employees to communicate up on a regular basis. Relying on a suggestion box and an annual employee survey just doesn't do the job. Two helpful ways to ensure the upward flow of feedback are employee town meetings and quarterly, brief, online surveys the capture the changing concerns of employees.
Trust in leadership
Trust can be shattered instantly when executives appear to suddenly change directions or seem to break promises. Building trust is a slower process. Executives build trust by developing a clear vision of the organizations' future and communicating this to all employees.
Career development
Engagement levels rise when there is a formal career development system that includes components such as formal career tracks, mobility systems to help employees move about in the organization, and annual career conversations.
Employees understand their role in success
Employees need to understand how their job fits into the big picture and what they must do more of and do differently to help the business succeed. HR can help by clarifying what are the competencies, the capacities that this particular organizations needs to grow and helping employees upgrade their skills to match the needs of the future.
Shared decision making
When employees participate in making decisions, they take feel more engaged in the organization. Decision-making needs to be pushed down to the lowest possible level.
Three tools
There are dozens of tools and programs that can help increase employee engagement. Here are three programs they we have found particularly effective:
Coaching program for new hires
Since research has shown that the first day at an organization is a key factor is determining the level of employee commitment and engagement in the years ahead, what happens as a new hire comes on board is critical. "Learning the Ropes" developed at the MITRE Institute provides a new hire with a coach for the first six weeks. The coach, who is someone in the work group of the new employee, spends time (usually lunch) with the new employee on his or her first day and then on a weekly basis over the next several weeks. They become a valued guide through the confusing maze of a new workplace.
Career conversations
A formal career conversation program ensures that managers sit down with each of their direct reports on a yearly basis to discuss their career advancement and career plans. These discussions can focus and inspire employees and also managers can spot employees whose job fit is not right before they jump ship.
Large group meetings
The level of engagement skyrockets when 60 to 600 employees representing all parts of an organization gather together to give input to the organization, These meeting can be used to review a vision, plan for the future, review progress to date, or introduce a new program such as an employee engagement initiative. This is the best way to reach all employees when there is an important message or a shift in direction.
Measuring employee engagement
Most companies (75 percent) try to measure employee engagement at this point in time. In addition to the reported level of engagement, organizations use measures such as retention, organizational performance, increased productivity, and financial success.
Overall, employee engagement is one of today's most important business issues. It is a place where we as HR are in a position to make a real difference.
Katharine Esty, PH.D., an organizational psychologist by training, is a founder of Ibis Consulting Group, Inc. which specializes in strategic planning, organizational development and diversity. Her expertise is in diversity. group facilitation and the future search methodology.

Mindy Gewirtz, PH.D., is president and founder of Collaborative Networks. In her 18 years of experience, she has partnered with all levels of management-from family-owned businesses to global corporations in high-tech, manufacturing, risk management and professional service firms.

E-Mail This Article