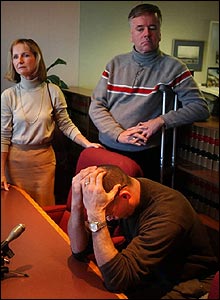 | | | |
| --- | --- | --- |
| Accused of abuse and absolved, Msgr. Michael Smith Foster returned to parish work sobered by his experience. | | |
Coverage of the Foster case

onths after dropping a lawsuit against Monsignor Michael Smith Foster and signing an agreement that he would not sue him again, Paul R. Edwards yesterday called on the Archdiocese of Boston to reopen its investigation into his allegations that he was sexually abused by Foster and another priest.

Edwards, 35, said at a news conference that he stands by his charge that there was an ''inappropriate'' sexual relationship between Foster and himself when he was a teenager, even though serious questions have been raised about the credibility of the allegations and the archdiocese found Edwards's charges unsubstantiated.

Carmen Durso, Edwards' attorney, said he was asked by the Survivors Network of Those Abused by Priests, a victims' support group, to look into the case, and he concluded that Edwards ''didn't get a fair shake.''

The original lawsuit, said Durso, in an interview prior to the press conference, ''has information that is clearly incorrect. I don't deny that.''

But, he said, ''several things that were said about [Edwards] are untrue. He wants to regain his reputation and live his life.''

Foster, in a statement, again denied the allegations.

Edwards said in the August lawsuit that he was molested numerous times by Foster between 1980 and 1985 at Sacred Heart Church in Newton. The Winchendon resident also said he was anally raped by the Rev. William J. Cummings, who died in 1994.

However, in an interview with a church investigator in September, Edwards said he and Foster had napped together in Foster's bed at the rectory.

Edwards yesterday was unable to explain the differences between what he said in the lawsuit and what he told the church.

''I don't know what the actual lawsuit states,'' Edwards said.

Durso acknowledged the contradictions. ''There is no allegation other than that Foster was lying on a bed with him. That's pretty minor in the scheme of things, and I recognize that,'' Durso said. ''I want to be sure the archdiocese conducts a full and fair investigation. If they conclude there is no reason to go forward, that's fine.''

Foster was placed on leave for 11 weeks because of the allegations. At one point, he was reinstated, then returned to leave, after Edwards spoke with church officials. He was reinstated again Oct. 30, after church investigators reviewed evidence that contradicted Edwards.

The Rev. Christopher J. Coyne, an archdiocesan spokesman, noting that the archdiocese has twice investigated Edwards's allegations and found them to be unsubstantiated, said, ''If Mr. Edwards has new evidence, we will be more than willing to listen to him.''

Matt Carroll can be reached at mcarroll@globe.com.