But the company, Bechtel/Parsons Brinckerhoff, turned to the people who had always helped it. They were Bechtel's supervisors, the same state transportation officials assigned to make sure the company was doing its job.
The transportation officials played down Bechtel's failure to track asbestos dumping, and even joined the company in complaining that state environmental inspectors were too aggressive in their oversight, project records show. Finally, in 1998, the transportation officials hired a lawyer to broker an unusual settlement quietly. Bechtel emerged with its reputation intact and paid just $131,000.
But taxpayers paid more than $3 million to clean up the asbestos mess.
The asbestos case is but one example of how Bechtel has not only engineered the Big Dig, but has built a fortress around company profits with the help of its state overseers, often at the public's expense.
With a cadre of lobbyists and lawyers on Beacon Hill and Capitol Hill, Bechtel has cemented bonds with policymakers to protect its profits, renew its contracts, and deflect questions about the quality of its management.
A yearlong Globe investigation that scrutinized a decade's worth of campaign contributions, contracts, and other records found that Bechtel, politicians, and state administrators closed ranks on many occasions to block scrutiny of the Big Dig by outsiders and internal critics alike.
Bechtel has retained several well-connected lawyers and lobbyists who, at the same time, worked for some of the state's top elected officials, including two former state governors and various legislative leaders. Doing so gave Bechtel access to lawmakers and powerbrokers.

Bechtel's Big Dig project manager, C. Matthew Wiley, and Morris Levy, Parsons Brinckerhoff's senior vice president, defended their companies' use of lobbyists and political contributions. It made the company "visible" in a complicated political environment far from the companies' headquarters, Levy said.

"We are not political, but we are not apolitical, either," said Levy, who has donated at least $10,000 to Massachusetts politicians in recent years. "It's to be visible, but not to influence."

But Larry Noble, executive director of the Center for Responsive Politics in Washington, a nonpartisan think tank, said Bechtel gives campaign contributions and hires lobbyists because it helps cement ties with lawmakers, quickly solves problems, and protects the company's profit base.

"Companies like Bechtel do this because it works," Noble said. "They are bottom-line oriented. It pays to do this, to hire people, to contribute to campaigns. It makes good business sense."

State and Bechtel: Strange bedfellows

When state officials chose the team of Bechtel and Parsons Brinckerhoff to manage the Big Dig in December 1985, they cited the companies' innovative proposal, and their reputations as industry titans. Separately, the companies had built some of the world's signature projects. Bechtel had helped build the Hoover Dam, the Alaska oil pipeline, the English Channel Tunnel, and an entire city in Saudi Arabia. Parsons had a role in dozens of major American transportation projects, including the building of New York City's subway system. For the Big Dig, they formed a joint company with Bechtel in charge.

Frederick P. Salvucci, then the state transportation secretary, said he selected Bechtel primarily for its demonstrated ability to use a difficult tunneling method.

But Bechtel had more than technical expertise. It had stellar Republican credentials, a handy tool when trying to persuade President Ronald Reagan, a California Republican, to give liberal Massachusetts the nation's most expensive public works project.

Not only was San Francisco-based Bechtel a major GOP campaign contributor, but Reagan had plucked two of his Cabinet members, George P. Shultz and Caspar Weinberger, from Bechtel's boardroom. That connection continues today: Shultz's daughter, Margaret, works as Bechtel's Big Dig human resources manager.

Salvucci dismissed the notion that political considerations colored his decision to award Bechtel the Artery management job, which was worth hundreds of millions, at a minimum, to the company he selected. Still, Salvucci said he hoped the company would be an asset in appealing to the Reagan administration.

"We stuck to the procurement procedures, but I certainly hoped that the fact that they had Republican ties would help us," Salvucci said. "It would have been a tragedy if we picked them for that reason, but it wasn't."

Ultimately, in 1987, Reagan vetoed start-up funding for the Artery project. But the Massachusetts congressional delegation gathered the votes to override Reagan's veto.

Thereafter, Bechtel turned its political attention to Massachusetts.

Weld and Bechtel: A meeting of minds
---
Memo hints
at hiding costs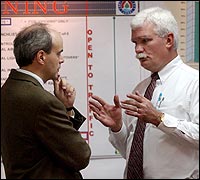 (Globe Staff Photo / David L. Ryan)

A confidential 1995 memo written by William H. Edwards (above, right), Bechtel's budget manager, said the state's top three Big Dig officials directed him to "sanitize" a report to hide the Big Dig's true cost.

Michael P. Lewis (above, left), now the state's Big Dig project director, was one of the officials Edwards named, along with then-project director Peter M. Zuk and transportation secretary James J. Kerasiotes. The photo was taken in December 2002.

---
Just as construction began on the Big Dig in 1991, William F. Weld, a Republican with strong business support, became Massachusetts' governor, ushering in an era of GOP control of the corner office that continues today.
The Weld victory also began an era of considerable access for Bechtel.
Weld did not return calls seeking comment for this series. But campaign reports show how much Bechtel meant to the former governor -- especially when he ran for reelection in 1994 and unsuccessfully for US Senate against Democrat John F. Kerry two years later.
Between 1991 and 1996, Weld reaped nearly $25,000 from Bechtel and Parsons executives, including several of the maximum $1,000 annual donations from George Shultz, who worked as a Bechtel consultant after his stint in the Reagan White House; Bechtel patriarch Stephen D. Bechtel Jr. and his wife, Elizabeth; Bechtel chief operating officer Adrian Zaccaria; and Levy of Parsons Brinckerhoff.
The support came as Weld and Bechtel each expended considerable energy drumming up support for California Governor Pete Wilson's failed bid for the 1996 GOP presidential nomination.
That included more than $1.4 million raised by Weld's chief fund-raiser, Peter Berlandi.
For the first half of the 1990s, Berlandi worked simultaneously as Weld's fund-raiser and as Bechtel's "liaison" with the administration. But his dual role became a major campaign issue in 1994, as Weld's opponents accused Berlandi of shaking down Big Dig contractors for campaign contributions, a claim that was never substantiated. Still, Berlandi severed his Bechtel contract after Weld's re-election, which freed him up to work for Wilson.
Berlandi, in an interview, said that he never discussed Bechtel with Weld, and that his work for the Wilson campaign had nothing to do with California-based Bechtel Corp.
But he acknowledged speaking to Weld when, in September 1994, just two months before that year's gubernatorial election, a rift developed between James J. Kerasiotes, the state's top Big Dig official, and Theodore G. "Tad" Weigle Jr., Bechtel's project manager.
At a business-leader breakfast, Kerasiotes promised the project would cost no more than $7.7 billion. But when a Globe reporter asked Weigle, he refused to guarantee that number. Kerasiotes was outraged with the contradiction, and now acknowledges that he demanded that Bechtel remove Weigle from the Big Dig. Weld backed Kerasiotes in seeking to remove Weigle, Kerasiotes said.
Berlandi helped arrange a meeting between Weld and Gary Bechtel, then Bechtel's president. Bechtel and another senior executive flew to Boston on Dec. 1, 1994, and held two meetings with Weld at the Boston Harbor Hotel, one in the morning, and one in the afternoon.
Only Weld and Gary Bechtel took part in the morning meeting, Kerasiotes said. Kerasiotes described the get-together as a "courtesy" to Gary Bechtel.
Weld told Kerasiotes afterward that he and Bechtel did not spend much time talking about the Big Dig in their private meeting, Kerasiotes said. Instead, they discussed the Wilson campaign.
A Wilson victory would have certainly helped both Weld and Bechtel. For Weld, who made no secret of his ambitions for higher office, a Wilson presidency could have meant a high-level appointment, the customary reward for such ardent and early campaign support. And for Bechtel, a Wilson win would have put in the White House another president with a close relationship with the company.
At the afternoon meeting, Weld and Bechtel discussed the Weigle matter and the project's ballooning cost, according to two people who were familiar with the discussions. A month after the meeting, Bechtel removed Weigle, and Weld flew to San Francisco to raise more than $300,000 for Wilson's campaign.
Later, when Weld ran for the Senate, his San Francisco connections paid handsome dividends, as contributions from the Bay Area topped $400,000. Among those were Bechtel's top executives and their spouses.
Alan Altshuler, a professor of urban policy at Harvard University and author of a forthcoming book on the Big Dig, said the episode demonstrates how Bechtel manages its political relationships in order to bank support for possible future disputes.
"This was a case where [Bechtel executives] were obviously being very responsive to the politics in Massachusetts," Altshuler said, adding that he views Bechtel's use of political contributions and lobbyists to be antithetical to the public interest.
"You would have wanted a legislative oversight committee or someone to say, 'Hey, that's wrong. These guys should not be active in Massachusetts politics. They are powerful enough,' " he said.
"Sanitized" numbers
---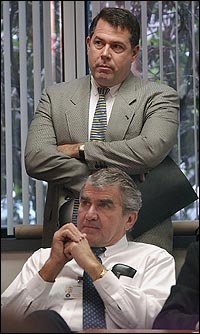 (Globe Staff Photo / David L. Ryan)

Massachusetts Turnpike Authority chairman Matthew Amorello (standing) and Bechtel's Big Dig project manager, C. Matthew Wiley, at the Big Dig's headquarters in November. Wiley says Bechtel's use of lobbysist keeps the company "visible."

---
Three months after Weld's meeting with Gary Bechtel, on March 15, 1995, a top Bechtel manager on the Big Dig wrote a memorandum marked "Confidential" and placed it in a file cabinet in the project's downtown headquarters.
Bechtel's Big Dig budget manager, William H. Edwards, authored the memo, which told an explosive story.
It detailed a discussion Edwards had with top state officials on the Big Dig. The officials were scrambling to trim the Big Dig's reported costs only hours before a key meeting with federal regulators. Their goal, Edwards wrote, was to reduce the bottom line by $400 million.
Michael P. Lewis, then the deputy project director, "directed" Edwards to, in Lewis's words, "sanitize" the package he was preparing for the federal officials, some of whom were coming in from Washington for the meeting, the memo said. Edwards noted that Lewis was following the orders of his bosses, including then-project director Peter M. Zuk and transportation secretary Kerasiotes.
"Assemble a 'sanitized' review package that shows summary information only," Edwards wrote, quoting the orders he says he received from Lewis. "Most notable: Do not include the cost exclusion information."
Edwards went on to list in detail $332 million in Big Dig costs that he subtracted from the accounting breakdown that was going to be presented to the regulators. The reductions brought the project's overall price to $8.069 billion, close to the just-under-$8 billion figure Kerasiotes had said he wanted.
The memo, addressed to "File," was copied to three top Bechtel officials, and included minutes of the meeting with federal officials that followed. The minutes show that Kerasiotes, with Edwards seated beside him, told the Federal Highway Administration that the project's cost was $8.069 billion.
Left out from federal review were $135 million in known costs attributable to inflation; $82 million in costs associated with a legally binding agreement with the Metropolitan District Commission for park-building; and $115 million subtracted from estimates of construction cost increases.
According to the memo, on the following day, Zuk and Lewis returned to Edwards, requesting further cuts "to hit a cost value of $7.997" billion.
Kerasiotes said the efforts to cut costs were legitimate, regardless of how Bechtel portrayed them in internal memos. He said Bechtel was chafing because the cost cuts would mean less money for the company.
Zuk, who left the project in December 1998, said the term sanitize "may have been a poor choice of words" on the part of Lewis and himself, who meant it innocuously, as in to clean up, and not to conceal.
"The direction was to simplify the presentation made to [the federal government] because it was too complicated," said Zuk.
He defended the subtractions as justified and proper, even if some of them would be added back into the project's cost in later years.
Edwards, who remains Bechtel's Big Dig budget chief, said he was advised by his attorney not to comment.
Lewis is now the Big Dig's project director, the highest state official on the Big Dig. He would not comment on the memo, but said through a spokeswoman that federal officials became aware of the Big Dig's accounting procedures within a few days of the meeting.
Yet federal officials disputed that notion on April 1, 2000, when a congressionally appointed task force assembled to probe the rising cost of the Big Dig concluded that project management "deliberately failed to inform" federal authorities "of the magnitude of the potential overrun."
The task force demanded written testimony from Bechtel officials explaining their role in "the decision to withhold material from" the Federal Highway Administration.
Bechtel's response revealed just how close the company and the state had grown. The company said in a certified letter that its responsibility was to give all pertinent financial information to the state. But the company had no such obligation to the federal government: It served only the state.
"All decisions on how to use this information, and whether or how to share it with [the Federal Highway Administration], rested exclusively with the MTA," wrote Bechtel's Wiley, referring to the Massachusetts Turnpike Authority.
Payback time
Bechtel's contributions to candidates for national office

J. Joseph Moakley
$5,500
Plus $22,500
from lobbists

James P. McGovern
$4,800
Plus $9,450
from lobbists

Edward M. Kennedy
$8,000
Plus $21,584
from lobbists

William F. Weld
$11,250


John F. Kerry
$4,800
Plus $17,500
from lobbists

Richard E. Neal
$5,575 from lobbists

William D. Delahunt
$10,918 from lobbists

To candidates for governor

William F. Weld
$13,500


Paul Cellucci
$19,970


Jane M. Swift
$750


Mitt Romney
$700


Shannon P. O'Brien
$4,200

Just as Bechtel backed up the state in its financial presentations to the federal government, top state leaders assisted Bechtel when the company came under fire for its mistakes.
In the summer of 2001, the Big Dig's estimated cost soared by $300 million in just three weeks, prompting an angry outcry from the Turnpike Authority's board. Bechtel's errors, they said, were at the root of the budget problem, and the company owed the state a refund. If the company didn't oblige, they said, the authority could terminate its contract.
The Turnpike Authority's lawyers set up two sessions to negotiate a possible refund with Bechtel on Oct. 9, 2001, one to take place at 9 a.m., the other at 3 p.m. The lawyers were demanding tens of millions of dollars, enough to put off toll hikes needed to pay down Big Dig debts.
CORRECTION: Because of a reporting error, the third part of the Globe's series on problems with the Big Dig incorrectly stated that representatives of the project's managers, Bechtel/ Parsons Brinckerhoff, failed to appear at an Oct. 9, 2001, negotiating session with the Turnpike Authority regarding reimbursement for management mistakes. Company representatives did show up for a short bargaining session.
Top Bechtel executives flew in with a surprising offer: The company would give the state up to $50 million, according to two people who attended the first negotiating session.
Turnpike Authority lawyers said they left the morning meeting hopeful that at last Bechtel would pay for some of its mistakes.
What they did not know was that Bechtel's newly hired lobbyist, Andrew Paven, had been busy working his connections with the state's political elite. Paven arranged for Bechtel executives to go directly from the first negotiating session into a meeting with Acting Governor Jane M. Swift's chief of staff and the secretary of administration and finance.
The afternoon bargaining session with the Turnpike lawyers never took place. After sitting down with Swift's two top aides, Bechtel rescinded its offer to refund to the state up to $50 million. The two aides declined comment.
A week later, when two of three Turnpike Authority board members voted to delay the toll hike, hoping they could instead rely on Bechtel's making a refund, Swift fired the duo, calling them "fiscally irresponsible." Swift, who declined comment for this article, told reporters at the time that the firings had nothing to do Bechtel. Indeed, the two board members, Christy Mihos and Jordan Levy, were challenging Swift on a range of policy matters. She believed they were irresponsible; they believed she was usurping power from the Turnpike Authority.
Levy and Mihos, however, were convinced their firing had to do with their tough stance against Bechtel, and they sued to get their jobs back. Bechtel brought in more firepower -- the company's new damage control expert, James P. "Jock" Covey. A veteran diplomat and Middle East expert, Covey put the word out that Bechtel wanted help.
By April 2002, Covey had found the hired hands he sought. For lobbying, he selected Massachusetts Bay Associates, a firm founded by former State Representative R. Emmet Hayes, husband of then-state Treasurer Shannon P. O'Brien, who was running for governor. Covey also recruited Cheryl Cronin, a politically connected lawyer and strategist whose clients include Swift and House Speaker Thomas M. Finneran. Cronin, who in December threw Swift's send-off party at her Back Bay home, counseled the acting governor during her earlier appearances before the State Ethics Commission over her use of aides to perform personal tasks.
While negotiating against the Turnpike Authority on behalf of Bechtel, Cronin was also representing the acting governor in a lawsuit brought by Christy Mihos, the fired Turnpike Authority board member. Cronin declined to comment.
Bechtel's new team of lobbyists, strategists, and consultants pumped more than $14,000 into campaign funds of members of the state legislature in the months that followed their hiring, the Globe found. Among leading politicians, Swift, who had already dropped out of the governor's race, got nothing. O'Brien and running mate Chris Gabrieli reaped more than $4,000. Finneran did not get any contributions from Bechtel's backers in that period, records show, but has received more than $2,000 from Bechtel's lobbyists and subcontractors since 1995.
"There's times when you think you're getting a raw deal," said Bechtel's Wiley, explaining the contributions. "You need to maintain those working relationships. It may not change the deal but it gives you a chance to make your case."
In May 2002, the state Supreme Judicial Court ruled that Swift was not justified in firing the two Turnpike Authority board members.
But the Bechtel critics returned to find their power was about to be diluted. Two months after the court ruling, the Legislature, in a late-night vote, expanded the three-member Turnpike Authority board to five, giving Swift two new appointees and making Bechtel's critics a minority.
Former State Representative Joseph Sullivan, as cochairman of the Legislature's Transportation Committee, wrote the bill. Sullivan said he moved to expand the Turnpike Authority board to provide greater community input into the Big Dig, and not to help Bechtel.
A few months earlier, Sullivan had considered a run for lieutenant governor. Among the advisers he sought out was Paven, Bechtel's top lobbyist in Boston.
Sullivan sought Paven's counsel on at least three occasions to discuss a potential run, even relying on Paven to recruit pollsters and other strategists, interviews with those involved revealed.
"Andy [Paven] introduced me to him," said pollster Irwin "Tubby" Harrison, who met with Sullivan and Paven at the Federalist restaurant in the shadow of the State House in December 2001 -- a month when Paven donated the maximum $200 to Sullivan's campaign.
"Other than talking about the possibility of his running for lieutenant governor, I don't recall much," Harrison said.
Paven would not comment on any meetings with Sullivan about a race for lieutenant governor. But he did acknowledge speaking to Sullivan from "time to time" to argue Bechtel's side of the negotiations with the Turnpike Authority.
Sullivan, a Braintree Democrat who left the Legislature last month to head the state Lottery Commission, said he had known Paven, a Quincy native, for many years. He consulted Paven as a friend, Sullivan said.
State Senator Robert A. Havern, cochairman of the Transportation Committee with Sullivan, said it was clear that expanding the board would help Bechtel. Havern said he and his Senate colleagues had actually wanted to keep the board intact and to "let the negotiations play out" between Bechtel and the Turnpike Authority. But Havern said he changed his mind out of deference to Sullivan.
Swift filled the two newly created seats on the Turnpike Authority board with developer and longtime GOP contributor Richard K. Anderson and veteran lawyer John "Jack" Moscardelli.
Moscardelli is a close friend and jogging partner of Peter Berlandi, Bechtel's chief State House strategist for half a decade. Moscardelli said he has no ties with Bechtel.
Since Swift appointed the new board members, negotiations aimed at getting money back from Bechtel have stalled.
At the talks, Cronin argues on behalf of Bechtel and the Turnpike relies on Leonard L. Lewin, the former chief counsel to the Cellucci and Swift administrations. Lewin, who would not comment, is no stranger to Cronin. In fact, he worked side-by-side with Cronin during his stint as chief counsel in Swift's appearances before the state's Ethics Commission.
Lewin and Cronin have not had much negotiating to do, however. Turnpike lawyers say Bechtel officials rarely agree to meet for talks, and when they do, they send Cronin and lower-level employees with no decision-making power.
If negotiations ultimately fail, as officials on both sides have predicted, the state would face a fork in the road: Sue Bechtel, or drop the pursuit of reimbursement entirely.
The one means foreiting a decade's worth of overruns. The other route would mean a long, costly legal battle.
Either way, Bechtel's Boston lobbyists would be well positioned to push the company's cause with policymakers. After all, the lobbying firm, O'Neill and Associates, signed a contract in December with the Executive Office of Transportation and Construction, the same state agency that pays Bechtel for its work on the Big Dig.
Globe correspondent Joseph Spurr contributed to this report. Raphael Lewis can be reached by e-mail at rlewis@globe.com. Sean P. Murphy can be reached at smurph@globe.com.
This story ran on page A1 of the Boston Globe on 2/11/2003.
&copy Copyright 2003 Globe Newspaper Company.