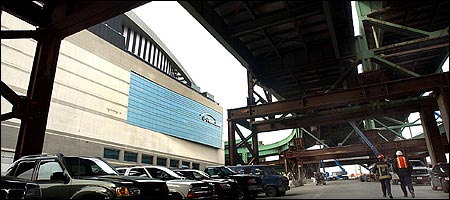 The Central Artery viaduct snakes within feet of the FleetCenter, which was left off early Big Dig design plans (Globe Staff Photo / David L. Ryan)

PART ONE
Artery errors cost more than $1b
By Raphael Lewis and Sean P. Murphy, Globe Staff, 2/9/2003
PART ONE
Bechtel's mistakes drive up cost overruns, and company profits.

Graphics
Bechtel's fee overruns
Map of major conflicts
History of the contract
Contract modifications
Cross section of roadway
Construction cost overruns


---

PART TWO
State officials overlook and excuse Bechtel's mistakes for a decade.

Graphic
Cost recoveries initiated

---

PART THREE
Powerfull allies help protect Bechtel and its bottom line.

This series has generated strong response from the state, the public, and Globe columnists.
More Globe coverage


On Feb. 20, 2003, Bechtel/Parsons Brinckerhoff issued a document disputing the findings of the "Easy Pass" series. Globe editor Martin Baron responded with a defense of the Globe's reporting.
Read Bechtel's statement
Read the Globe's statement

Building a reputation
Bechtel has never shied away from big construction projects, but worldwide achievements are accompanied by controversy.
See past Bechtel projects


2001
Review cites flaws at Big Dig
Cerasoli charges Big Dig coverup
$1.4b overrun known in '99
Firm rejects call to offset costs
'99 memos warned of tunnel leaks


2002
Officials disclose more defects
Lawsuit raises Big Dig questions
State to reopen deal with Bechtel
Big Dig hires quality manager
US knew of hidden expenses
Big Dig overrun just plain big
SEC probers to target Big Dig
Big Dig review to target overruns
Turnpike, firm set deal on leak cost


Central Artery/Tunnel Project
www.bigdig.com

Bechtel
www.bechtel.com

Parsons Brinckerhoff
www.pbworld.com

State Inspector General reports
On the history of the Central Artery/Tunnel project's finances:
www.state.ma.us/ig/publ/cat01ex.htm
On the Central Artery/Tunnel project's attempts to recover money for mistakes:
www.state.ma.us/ig/publ/catcrex.htm

About "Scheme Z" bridge design
libraries.mit.edu/rotch/artery/

State oversight of the Big Dig
www.state.ma.us/catocc/

Mass. Turnpike Authority
www.massturnpike.com

The Artery Business Committee
www.arterybusiness.com

On February 11, 2003, Globe reporter Raphael Lewis chatted with Boston.com readers about the Bechtel series.
Transcript of chat

Any tips? Let us know.
Phone: 617-929-3379
E-mail: bigdigtips@globe.com




What happens to the ribbon of land being created by the depression of the Central Artery? A joint effort between The Boston Globe, MIT, and WCVB-TV explores.
A special report

---

| | | |
| --- | --- | --- |
| Progress updates on the Big Dig. Info | | |





t was spring 1997, only a few weeks after he took an engineering job with the Big Dig's private-sector managers, Bechtel/Parsons Brinckerhoff, when David Beck realized something was terribly amiss at the then-$10.8 billion project.

The FleetCenter was missing.

Not the actual FleetCenter, of course. The flashy facility had been grabbing headlines since a groundbreaking ceremony on April 28, 1993.

It was the design drawings. Bechtel had failed to depict the 19,600-seat arena in its preliminary designs, which were completed in October 1994, and instead showed an obstacle-free area for contractors to lay utility lines. Bechtel then failed to fix the problem before signing off on the final design drawings three years later.

"I sent out some e-mails, and made a couple of calls, saying, `Hey guys, we have a problem here,' " Beck recalled.

Months passed, and construction work was under way before the designs reflected the FleetCenter's existence, records show.

"It fell through the cracks, if you will," William R. Mayer, a top Bechtel engineer, recently acknowledged.

But even though Bechtel's gaffe cost taxpayers $991,000, the company never paid a penny back for its mistake. And no one from the state or federal government ever asked.

A yearlong Globe investigation found hundreds of similar errors committed by the Big Dig's management company, which is led by one of the world's largest engineering firms, Bechtel Corp. of San Francisco, and includes another industry titan, Parsons Brinckerhoff of New York. The Globe determined that at least $1.1 billion in construction cost overruns, or two-thirds of the cost growth to date, are tied to Bechtel mistakes.

Yet, even as Bechtel's errors helped drive up the Big Dig's cost, the company never paid for any of its mistakes. Instead, it profited. To date, Bechtel has received more than $264 million beyond what its original contracts called for, in part because Bechtel received additional money to fix its errors, records show.

After years of inaction on cost overruns, the Big Dig late last month hired a retired judge to determine whether Bechtel -- or any contractors -- owe refunds for mistakes in design, construction, or management. But the state is unlikely to get repaid for as many as two-thirds of the errors because the statute of limitations has passed.

The Globe investigation included scrutiny of 12,000 changes to more than 150 construction and design contracts, review of 20,000 pages of project documents, and more than 100 interviews with current and former Big Dig officials, construction specialists, and contractors. The chief findings:

• During the 17 years it has managed the Big Dig, Bechtel has neglected to perform basic work called for in its contracts, such as conducting crucial field surveys of the elevated Artery, and verifying the locations of utility lines and buildings such as the FleetCenter. The failures contributed to more than $350 million in construction overruns, project records show.

• Construction on virtually all of the Big Dig's major contracts began with incomplete and error-filled designs, which led to nearly $750 million in other construction cost overruns, records reveal. Bechtel created the basic design for the entire Big Dig, set the design schedule, and signed off on all the final design drawings.

• Bechtel failed to heed warnings of problems in the design drawings, even from its own engineers, records and interviews reveal. Those deficiencies were usually fixed only after contractors discovered them, when it was far more expensive to make changes. In almost all cases, Bechtel solved the design problems by recommending that the state approve hundreds of millions of dollars in payments to contractors for additional work.

• Bechtel failed to detect or call attention to serious flaws in construction work, leading to tens of millions of dollars in repair and delay costs.

Bechtel's top Big Dig official, project manager C. Matthew Wiley, said the firm has done its job as well, if not better, than any other engineering firm could.

"I believe the Bechtel/Parsons Brinckerhoff team has performed admirably, and to a higher professional standard of care than required in our contract," he said.

Bechtel officials disputed that any part of the $1.6 billion in construction cost overruns to date resulted from mismanagement or deficiencies in its designs. They attributed about $1 billion in overruns to justifiable expenses that cropped up as they confronted engineering challenges and community concerns.

The remaining $550 million in overruns, they said, was the cost of shortening the project's schedule from late 2007 to mid-2005. By cutting time off the project, Bechtel's so-called fast-track initiative created a net savings of about $1 billion, they said.

But if Bechtel -- and the state officials who relied upon the company -- expected overruns due to a "fast-track" plan, they never told the public until after overruns busted the Big Dig's budget.

In fact, no documentation of such a plan exists in the Big Dig's voluminous files, the Globe found, calling into question the assertion that "fast-tracking" was an actual initiative and not an after-the-fact justification for overruns.

What the Globe did find was that Bechtel had no financial incentive to minimize errors, and that its officials routinely advised the state to pay overruns to smooth over problems that were often of Bechtel's own making.

Bechtel was "like the fox guarding the chicken coop," said C. William Ibbs, a construction management professor at the University of California at Berkeley and a frequent consultant to both the Big Dig and Bechtel.

"We would like to think they are honest people and act with the highest integrity," Ibbs said. "But they are profit driven."

Error by design: A case study

On July 15, 1997, state officials gathered to award a contract to build tunnels from Haymarket Square to the North Station, where the elevated Artery loomed four stories above street level.

The terrain demanded the most precise designs and complete research Bechtel could offer; otherwise, a minefield of obstructions would send delays rippling throughout the Artery work zone.

First, the contractor had to build new steel legs to hold up the rusty old highway. Then, the contractor had to tunnel through crumbling bedrock, old sewer mains, and wooden piers from long-forgotten wharves.

And they had to do it all without interrupting traffic.

Bechtel estimated the job would cost about $260 million to complete, and Big Dig officials hoped they were right. After all, they had pledged repeatedly to the public that the project's cost would not rise above $10.8 billion.

As it turned out, the low bid came in at $218 million. Artery officials rejoiced.

But their joy was short-lived.

Today, the contract held by Jay M. Cashman Inc. has grown $128 million beyond the bid submitted that July day, an increase of nearly 60 percent. In many ways, it stands as an object lesson in Bechtel's problematic management.

Cashman and the other contractors had virtually no hope of cobbling together accurate cost estimates, records show. The reason: Bechtel had poorly managed the contract's design, and it was nowhere near complete.

As a result, the cost of the job was artificially low because Cashman never had a chance to submit bid prices for significant aspects of the work required.

The plans the contractor bid on were confusing, hastily assembled, and sometimes contradictory, records show. In the eight weeks before the bid opening, the engineering firm hired to finish Bechtel's preliminary designs for the Cashman job redrew them nine times, the Globe found. Bidders received the last packet of drawings just five days before the contract was awarded.

But that was hardly the end of the design process. On 16 occasions between July 1997 and October 2002, Bechtel sent Cashman new design packets that included as many as 400 new drawings. The packets addressed 1,800 written requests for clarification from Cashman on discrepancies between the designs and the actual conditions workers confronted.

One major problem appeared almost immediately after Cashman got the go-ahead to begin work. Crews found that Bechtel's complicated scheme to support the Artery while excavation work proceeded below was not viable, records show. The discovery set off an eight-month odyssey of reengineering, overtime, and extra shifts to correct the designs.

Project records and interviews with officials involved with the contract indicate that Bechtel violated standard industry practice by neglecting to survey and measure the elevated roadway before construction began. Instead, Bechtel relied on aerial photos taken in 1987 and 1988 and 1950s-era architectural drawings. Measurements would have determined exactly where structural elements such as support footings rested and not where planners a half-century earlier had said they would be.

Anthony Lancellotti, Bechtel's engineering manager, acknowledged that the Artery was not properly surveyed, saying the company took a calculated risk that the combination of aerial photos and old "as-built" drawings would be sufficient.

"Each contract is exposed to certain risks," Lancellotti said.

That risk turned out to be quite costly. The failure to survey the Artery cost at least $16 million to correct and about $10 million more in overtime and extra shifts to avoid schedule delays, according to contract records and interviews with contractors.

Other costly problems wrought havoc, too. Cashman found a 9-foot-wide sewer main and other obstructions not mentioned on the designs in places where the firm was to supposed to build tunnel walls, records show.

When Cashman drilled down to bedrock, which determined the height of the tunnel walls, it sat about five feet higher than designs showed, requiring new plans for more than a mile of tunnel walls.

And Cashman encountered a subterranean pocket of tidal muck that caused repeated tunnel wall cave-ins, in part because Bechtel did not allow the company to try a different construction method for several months, records show. The cost: $1.2 million.

A little more than a year after Cashman took on the Artery contract, the company's managers were fed up. In April 1999, Jamie Doyle, Cashman's project director, fired off a letter to Bechtel engineers calling the contract "unconstructible." He blamed the problem on unfinished designs.

"With even a summary understanding of the history of the issues dealt with, it becomes clearly evident that the plans, at bid time, were at best, no more than 65 percent plans," Doyle wrote. "The prudent bidder has a legal as well as moral right to expect that he is bidding on 100 percent plans."

Bechtel officials insist the designs in the Cashman contract were adequate, and that contractors routinely complain to make extra money.

Still, Cashman was expected to finish in February 2001, but the job dragged on an extra 22 months. The delay cost Bechtel nothing. In fact, as with all the other overruns, it only added to the company's profit. While taxpayers covered the $128 million in overruns, Bechtel took home an additional $3.7 million for its extra time.

Forget and forgive
---
Bechtel has neglected to perform basic work called for in its contract, such as conducting field surveys and verifying the location of large utilities and buildings like the FleetCenter.
---
Even when an outside agency pointed out problems in Bechtel's preliminary designs, Bechtel failed to heed the warnings.
On Dec. 22, 1994, MBTA officials met with Bechtel to discuss the firm's plans to raze a ramp near the FleetCenter. The T's representatives told Bechtel that it would cause the Green Line and the ramp to collapse, according to project records.
But Bechtel did not change the plans. Three years later, after the project discovered that T officials were right all along, Bechtel ordered the contractors to install an elaborate support system. Cashman received an additional $250,000 for the new work, records show.
Bechtel officials insist they were forced to make frequent changes to designs in that area because the MBTA's plans and schedule changed frequently. They said they did their best to minimize costs and conflicts.
"They were a moving target," Bechtel's Lancellotti said of the MBTA.
But Beck, the former resident engineer, recalls meeting resistance from his Bechtel bosses upon finding errors or problems. When he told a senior Bechtel manager about the Green Line problem, the manager told Beck, "No, we do not have errors on our drawings," according to Beck.
Beck did not last much longer on the project. In 1998, a North End resident complained about construction noise, and Beck dismissed the complaint as exaggerated. Bechtel fired him, at the insistence of state officials.
Beck acknowledged his role in the incident but says he was fired primarily for his criticisms of the Big Dig and its management.
"It's too bad because we were doing great, important work," Beck said. "It's just that it could have been done so much better."
State officials, the ultimate overseers of the project, took little notice of what Beck or any other critic said and simply paid for Bechtel's mistakes.
"I've always taken the position that, if you make a mistake . . . the last thing in the world you want to do is hit somebody over the head," said James J. Kerasiotes, the state's top official overseeing the Big Dig for the first decade of its construction.
Fast track to overruns
The problems that dogged the Cashman contract, and the tens of millions of dollars needed to fix them, were pervasive throughout the Big Dig, records show.
On more than 3,200 occasions since 1991, the state paid extra money to contractors to compensate for design flaws, some big, some small.
For example, the drawings for the Ted Williams Tunnel left a 4-foot gap between tunnel sections, which was discovered by perplexed workers only after the massive tunnel tubes were eased into position, records show. The problem caused at least $307,000 in new work.
Another set of designs, which detailed specifications for a trucking route through South Boston, instructed contractors to connect an electrical line to a certain manhole. "The manhole does not exist," project officials later acknowledged, as they authorized a $63,000 overrun payment.
Drawings for the Big Dig's Operations Control Center called for 12-foot-wide openings in the walls for ventilation. But "a 20-foot opening was required," a project memorandum states. The state paid $11,000 to make the vent system fit.
And another design called for laying 12 inches of gravel beneath a road section in East Boston. As it turned out, the required amount was actually 15 feet. The cost: about $560,000.
All these small errors helped add up to something very large: $1.6 billion in unplanned construction costs. About $1.1 billion of that can be traced back to deficiencies in the designs, records show: $357 million because contractors found different conditions than appeared on the designs, and $737 million for labor and materials costs associated with incomplete designs.
The rest, about $500 million, Bechtel filed under the category "Other." The innocuous-sounding category covered all manner of extra expenses, from extra street sweeping to additional police details to new shipments of concrete -- most of it necessary because of design-related delays.
When the Globe first questioned the completeness of Big Dig designs, Michael P. Lewis, the state's Big Dig project director, said the designs were "100 percent" finished when put out to competitive bidding. State law requires as much, to ensure that taxpayers get the lowest price possible for every aspect of work involved.
A few weeks later, however, Bechtel's Lancellotti, as well as Lewis, pulled back slightly, saying "virtually all" designs were "98 percent complete" when construction activity commenced. The designs left only minor items out at bid time, they said.
Shortly thereafter, they acknowledged three major construction contracts went out to bid while designs were still "substantially incomplete." The designs were not ready in time to meet federal funding deadlines, they said. Those three contracts -- two on the Ted Williams Tunnel and one near South Station -- have increased by more than $250 million, records show.
Finally, Bechtel officials said they had intended to begin most contracts with some design elements unfinished, to save time. About $550 million in overruns were necessary to fill in some of the gaps caused by such "fast tracking," they said.
But there is no documentary evidence that such a plan existed, the Globe found, and if Bechtel truly intended to forge ahead while expecting to fill in the gaps with overruns, the firm did not publicly state that. Asked under the state's public record law to provide any reports, memos, or correspondence that detailed, or even mentioned, such a plan, Bechtel and state officials said there were none.
They did provide a copy of the management plan Bechtel submitted to the state in February 1985. In it, the company proposed going ahead with relocation of utility lines even as engineers were still developing the conceptual design of the project. They called it "fast tracking." The plan was limited only to the earliest stages of the project, before anything was awarded to contractors.
By the mid-'90s, however, Bechtel was moving ahead with far more than just utility lines before the final drawings were complete. One of Bechtel's top engineers protested the company's practice of putting out incomplete designs and then filling them in later, according to a legal complaint filed in federal court in Boston.
Bruce Newman, who designed the Big Dig's massive electronic security system, says he was fired after complaining that Bechtel was engaging in "major violations of accepted practice" and breaking state laws. He sued Bechtel in federal court, and the two parties reached a confidential settlement in 2000.
Bechtel, in court papers, said Newman was let go as part of wider layoffs. But the company did not dispute that Newman was told to sign off on drawings that he called "extremely simplistic."
Project records confirm much of what Newman alleged -- that the design process had fallen further and further behind schedule as construction pressed forward. State officials refused to delay construction to give engineers time to work out serious omissions in the designs, records show.
As a result, almost all Big Dig construction contracts were awarded amid a last-minute flurry of design revisions, just as the Cashman contract was. Thousands of new drawings poured in just days before bids were due, records show, making inaccuracies in the bids a virtual certainty.
Once construction began, Bechtel and the design firms it managed fired out hundreds of "design update" packages to contractors already in the field, often with new information that conflicted with other designs. Some of those updates arrived years into construction, records show.
To Ibbs, the construction specialist, Bechtel's willingness to provide contractors with incomplete designs was irresponsible. And the more difficult the project, he said, the more crucial it is to make designs precise.
"You have to take care up front," in the design process, Ibbs said. "If I am doing a one-of-a-kind project in Boston, that demands even more care."
Construction criticism
In December 1998, more than a year after Cashman won its contract, federal inspectors paid a routine visit to the job site, interviewing laborers, scribbling notes, observing workers pour concrete and install steel beams.
They found some troubling lapses, according to a Federal Highway Administration inspection report.
Topping the list of concerns: Workers had installed at least one massive steel beam that was made of a weaker grade of steel than project regulations allowed, the inspectors said.
The inspectors rated the quality of work "unsatisfactory." State officials promised better oversight. Cashman disputed most of the charges.
But the inspectors raised a crucial question: Why didn't Bechtel spot the problems first? After all, Bechtel not only managed the entire design process, it was responsible for enforcing the project's construction guidelines.
In fact, on several occasions, Bechtel failed to watch contractors closely or test their work until after it was too late, the Globe found.
For example, when the federal inspectors returned to the Cashman work site two years after documenting lapses in Bechtel's oversight, they reported that Bechtel's "inspection of the structural steel fabrication continues to be an issue."
The problem, the federal inspectors said in their June 2000 report, was a projectwide "weakness" in Bechtel's oversight.
Bechtel officials, in interviews with the inspectors, blamed state-mandated caps on their staffing levels, which they said hampered their ability to observe all steel being installed on the project.
But steel quality was not the only problem to elude their gaze.
Bechtel failed to test the Ted Williams Tunnel ventilation system until a year after the roadway opened to the public in December 1995. As it turned out, mistakes by a contractor had left gaps in the ventilation system, leaving it unable to draw smoke out of the parts of the tunnel in the event of a fire.
Bechtel and project officials insisted that the system was adequate all along, and that at no time were drivers put in harm's way.
It took Bechtel until September 2000, nearly four years after the problems were detected, to get the system fixed. It cost taxpayers $5 million.
A flood of trouble
---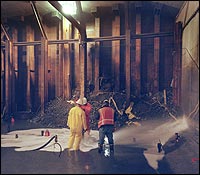 In the Fort Point Channel tunnels, the site of a major flood in 2001, independent engineers warned Bechtel that the design was "unreasonable," but Bechtel pressed forward, anyway.
Above, workers finish plugging the Fort Point Channel leak late in 2001. (Globe File Photo / John Bohn)

---
Bechtel's failure to order timely repairs at the contractor's expense was not limited to the Ted Williams Tunnel. The Globe found examples from the northern edge of the project, where roadside barriers were too short for federal safety guidelines, to the South End, where paving surfaces prematurely cracked because they were applied incorrectly.
But in the Fort Point Channel tunnel crossing, the consequences of Bechtel's mismanagement were disastrous.
In November 1999 Drew King, a Bechtel field engineer, noted in a report that a steel dam built to keep water out of the tunnel area was not sealed. Steel sheets that were supposed to be tightly interlocked were instead overlapped.
"No interlock between Phase 1 & 2 at corner," King entered into his Nov. 13, 1999, report. In all, King found seven gaps in the dam, ranging from 3 to 18 inches wide.
But Bechtel never informed state managers of King's findings, two Artery officials said. Nor did Bechtel direct the contractor, Modern Continental Construction Co., to make the needed repairs, records show.
Two years later, on Sept. 22, 2001, a massive leak erupted beneath the tunnel tubes, gushing 70,000 gallons a minute into the site, submerging heavy machinery, and bringing key Big Dig contracts to a halt for several weeks. It was the largest construction setback on the Big Dig in recent years and the main reason for the delayed opening of the Mass. Pike connector to Logan Airport.
Big Dig officials say the flood cost at least $41 million.
The gaps may not have been the only cause of the leaks, the Globe found. A state inquiry into the flood concluded in 2002 that Bechtel had relied on an "unreasonable" design in the first place, a confidential report by the law firm Kirkpatrick & Lockhart says.
Bechtel had heard as much before. In October 1997 an independent group of engineers, who were invited to review the designs before construction began, called them "unrealistic," the report says. But Bechtel disagreed with that assessment and pressed forward. The company never informed Modern Continental that serious doubts had been raised about the design, the report says. Modern Continental officials declined to comment.
When the firm conducting the state inquiry presented information critical of Bechtel's oversight, the state never went after Bechtel for money. Instead, the state pursued Modern Continental for the cost of the leaks and relied on Bechtel as its legal ally. Bechtel officials declined to comment on the Fort Point Channel flood.
Carolyn Kain, the Turnpike Authority's former deputy general counsel, told the agency's chairman that the state had a strong case for a refund from Bechtel. In a confidential e-mail, Kain wrote that the evidence "points directly" at Bechtel. If Bechtel refused to pay immediately, she said, "It is my recommendation that litigation be commenced forthwith."
A few weeks later Matthew Amorello, the Turnpike Authority's chairman, fired Kain, who had clashed with the authority's leaders on a number of matters. A spokesman for Amorello said Kain's dismissal was not connected to her legal conclusions on Bechtel.
The Turnpike Authority has yet to take any legal action against Bechtel for the leaks. Instead, the authority's board recently voted to give Bechtel a new contract. The state and Bechtel were joined together anew, and the state also offered Bechtel at least 7 percent profits on top of its wages.
The state guaranteed those profits -- even on work required to correct Bechtel's mistakes.
Thomas C. Palmer Jr. of the Globe staff contributed to this report. Raphael Lewis can be reached by e-mail at rlewis@globe.com; Sean P. Murphy can be reached at smurph@globe.com.
This story ran on page A1 of the Boston Globe on 2/9/2003.
&copy Copyright 2003 Globe Newspaper Company.