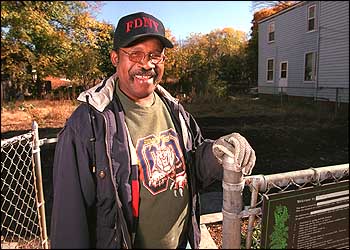 (Globe Staff Photo / John Blanding)
The Trustees of Reservations and the Boston Natural Areas Fund provide urban gardeners with land, tools, materials, and, for Eulie Fair, 61, a reason to stay positive in his battle with cancer.

take it one day at a time," says Eulie Fair, softly."I don't think about tomorrow. I think about what I can do today."
Diagnosed with prostate cancer two years ago, Fair, 61, admits it isn't always easy to stay positive. But reflecting on the sweetness of childhood memories and the days he and his siblings spent tending the family farm in Augusta, Ga., has its own special healing powers, he says, a smile slowly creeping across his face.
These days, thanks to the joint contributions of two land conservation organizations — The Trustees of Reservations and the Boston Natural Areas Fund — Fair finds pleasure in a unique urban pasttime, maintaining a small garden near his Dorchester apartment.
"It is something some people take for grant- ed," says Fair. "I love it because it gives me something to hold on to,somewhere to go."
The green space, set apart from the street by a wrought iron fence, is where Fair can be found between doctor's appointments and surgery. It's where he digs his hands in the soil and collard greens, okra, tomatoes,and roses grow.
"I just try to keep going." Without the garden and the help of BNAF, he says, there would be very little to occupy his mind in such difficult times.
BNAF is an urban conservation organization that owns and oversees the management of 39 community gardens throughout the city. The trustees provide landscaping services to help maintain and improve up to 25 gardens in Dorchester, Jamaica Plain, and Roxbury.
Together, they supply the tools and materials to resident gardeners, including Fair, who want to preserve Boston's open space and enjoy the fruits of their labor. For several low-income gardeners,BNAF organizers say, the gardens provide not only aesthetic beauty to the neighborhoods, but the only source of fresh produce.
"They've been real helpful," says Fair. "In a way it does remind me of home."
Megan Tench
This story ran on page F5 of the Boston Globe on 11/18/2001.
&copy Copyright 2001 Globe Newspaper Company.