Posted by Scott Kirsner
March 31, 2010 05:44 PM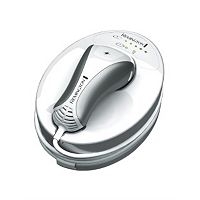 It has been a couple years now that I've been bugging Dan Roth to tell me what his Woburn start-up, Shaser Inc., was working on. News finally trickled out today with this
SEC filing
announcing that Shaser has raised another $3 million from Stata Venture Partners, and Roth shared a bit more by phone this afternoon. But Shaser's
Web site
still contains just the company's logo and an "info@" e-mail address.
Roth
sold his last start-up
, the mobile voice recognition company VoiceSignal, to the speech recognition behemoth Nuance in 2007. That company had raised a bit more than $21 million, and Nuance paid about $293 million, most of it cash.
Roth left Nuance not long after the acquisition to start Shaser. They've developed technology to enable consumers to do hair removal treatments at home using "
intense pulsed light
," and the company's first product went on sale in Europe earlier this year through their partner Remington. Remington sells the new
i-LIGHT
system for about $525. (That's the i-LIGHT pictured above.)
"Men and women both instantly understand the value proposition [of painless hair removal], compared to saying you're developing speech recognition technology," Roth told me. Sales of the i-LIGHT, he says, are "on fire." The system stops hair growth for as long as three months, Roth claims. Working with Roth at Shaser are quite a few Voice Signal alums, including CFO
Damon Pender
.
Roth says there are other applications for the technology, like minimizing the appearance of varicose veins and skin blemishes, and that Shaser plans to bring other products to market with additional partners. "We're set up like a software company, to develop new designs and then license them to OEMs [original equipment manufacturers]," Roth says. He says this latest $3 million round of funding is Shaser's C round, bringing the total amount raised to over $8 million.
The investment in Shaser is the first deal for Udi Meirav, formerly chief executive at Luminus Devices. He joined the investing team at Stata Venture Partners last November, partner Lee Barbieri says.
Stata also was a backer of VoiceSignal. (The Needham firm, founded by Analog Devices chairman Ray Stata, is even more stealthy than Shaser itself; they don't even have a Web site at all.)
Here's the one
patent application
I could dig up for Shaser, for a "scanning laser system for the treatment of tissue." It was filed last December.
Introducing...
Innovation and technology news that matters, on a new website from the Boston Globe, featuring Scott Kirsner and other original reporting.
More...
About Scott Kirsner
Scott Kirsner was part of the team that launched Boston.com in 1995, and has been writing a column for the Globe since 2000. His work has also appeared in Wired, Fast Company, The New York Times, BusinessWeek, Newsweek, and Variety. Scott is also the author of the books "Fans, Friends & Followers" and "Inventing the Movies," was the editor of "The Convergence Guide: Life Sciences in New England," and was a contributor to "The Good City: Writers Explore 21st Century Boston." Scott also helps organize several local events on entrepreneurship, including the Nantucket Conference and Future Forward. Here's some background on how Scott decides what to cover, and how to pitch him a story idea.
On Facebook
Subscribe via e-mail
More from Scott
Browse this blog
by category