Posted by Chad O'Connor
March 24, 2014 06:00 AM
[The We are the Creative Industries series: The Creative Industries - video game companies, design, marketing and architecture firms, and talented people who write books, design houses, shoot movies, make art and record music, just to name a few examples - are an important part of Massachusetts' economy, with $1 billion statewide impact and over 100,000 workers. Click here to learn more.]
What do you think of when you hear about the fashion industry today? Large box retailers? Huge ecommerce platforms? Big brands? Local boutiques? Until the late-19th century, fashion was largely a designer-centered, custom-made business. By the end of the 20th century, new technologies and mass manufacturing led to the rise of large media and holding-company monopolies as well as outsourced production. The designer-led, creative component of fashion became another cog in the wheel. In an industry stacked against designers, there's a 60% dropout rate amongst trained graduates. What consumers see as industry success from shows like Project Runway rarely equate to financial prosperity.
Not many people are bold enough to tackle an industry whose business models and process have largely gone unchanged for hundreds of years. Nineteenth Amendment, a PayPal StartTank company, is bringing Boston's tech and startup savvy to the largely antiquated fashion industry. Here's what's ugly about fashion and how Nineteenth Amendment is giving the industry a much needed makeover: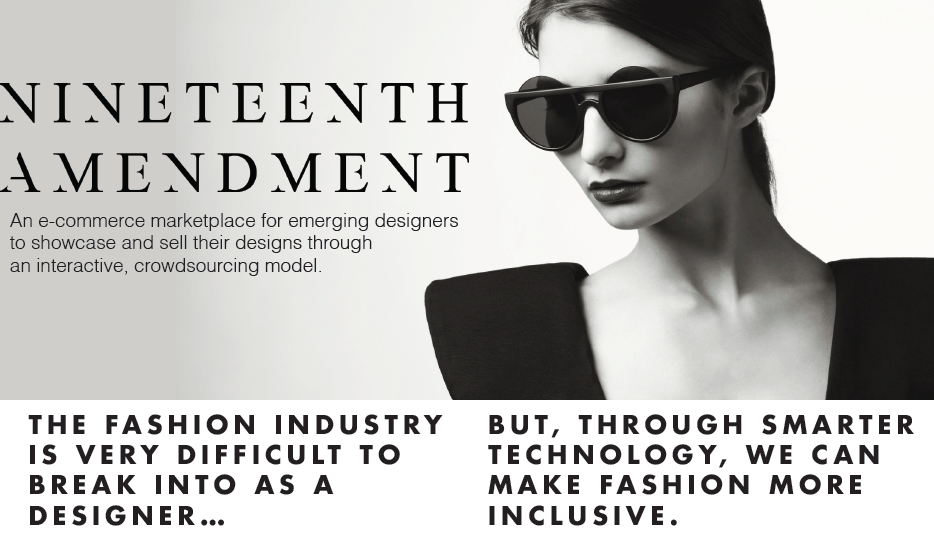 1. Fashion is capital intensive...but doesn't have to be
It takes hundreds of thousands of dollars to launch a fashion line - a sum that includes fronting manufacturing costs and staging large fashion shows. Big brands have big budgets and, on average, it takes about $300,000 to start a label. Nineteenth Amendment helps designers to "stiletto-strap," or fashionably bootstrap, a collection. Shoppers support designers by pre-purchasing designs before inventory is produced, which allows for Nineteenth Amendment to oversee 'just-in-time' manufacturing with partner US manufacturers. Flipping the traditional retail model upside down eliminates the need for designers to pay up front for production, while also keeping margins high.
2. The industry is stagnant...but new blood is out there
Most of the big names in fashion are big for a reason, but there is nothing worse than wearing the same dress to an event as another guest. On Nineteenth Amendment, fashion savvy consumers get first access to emerging designer talent found only on 19thAmendment.co. Shoppers can engage directly with designers by critiquing their work and reviewing design inspiration. They have the opportunity to own a garment by the next big name in fashion before they hit it big, supporting designers and growing US manufacturing directly. Shoppers diversify fashion and determine which designers will be successful by voting with their wallets.
3. US manufacturing is at a low...but there are ways to grow the economy
Fast fashion, or throwaway products produced cheaply and unethically, have put a black cloud over the fashion industry. But alternative movements like Slow fashion and the Maker Movement has brought back to the forefront the individual artisans behind the product we hold close, even put on, everyday. Give these artisans the tools they need to operate and small businesses will be born. Nineteenth Amendment has streamlined the manufacturing process by making production accessible to independent designers and manageable for US manufacturing facilities. By leveraging off-season production and collective purchasing power, Nineteenth Amendment is able to keep margins high and minimums low. All garments are made, "just in time" for you at our partner manufacturing facilities.
Nineteenth Amendment is here to help. Co-founders Gemma Sole and Amanda Curtis have set out to lower the financial bar of entry and let talent and drive be the determining factors of success in the fashion industry. Fashionable consumers can sign up for early access on 19thAmendment.co, which will launch this spring with 100 emerging fashion designers from around the globe, including local Boston designers.
Amanda Curtis is CEO and Co-Founder and Gemma Sole is COO and Co-Founder of Nineteenth Amendment, which is currently accepting designer application and raising a seed round. All inquiries can be directed to Amanda@19thAmendment.co .
[We are thankful for Global Business Hub's support of the Creative Industries. Please note: This article does not necessarily reflect the viewpoints of the Executive Office of Housing and Economic Development or its Creative Economy Industry Director for the Commonwealth, nor is it an endorsement of any views, products, or opinions contained therein. The author is solely responsible for the content.]
ABOUT GLOBAL BUSINESS HUB
Boston World Partnerships'
expert "Connectors" discuss business strategy, entrepreneurship, Boston's place in the world economy, and much more. Using their insider perspective, they illuminate how Boston's innovative companies start, grow, scale, and go global.
Meet Boston's coolest, smartest and most dynamic founders in our REEL Innovators video series!
Resource Roll
Startup Support and Business Mentoring
Government Economic Development
Co-Working and Shared Office Space
Introducing...
Innovation and technology news that matters, on a new website from the Boston Globe, featuring Scott Kirsner and other original reporting.
More...