Posted by Josh Rothman
July 27, 2011 12:10 AM
The Observer's Very Short List blog points out a great find: over 28 hours of tape from William Faulkner's time as the Writer-in-Residence at the University of Virginia during 1957 and 1958 are now available online. You can hear him read from his novels and stories, as well as answer questions from students, faculty, and the public. It was all recorded on reel-to-reel tape.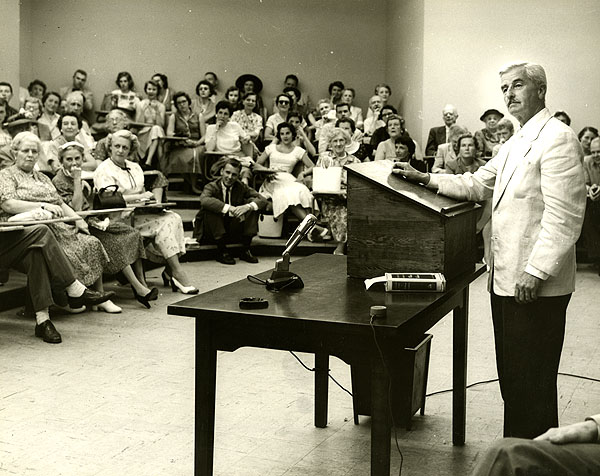 Faulkner at Virginia, ©2010 Rector and Visitors of the University of Virginia; Author Stephen Railton.
U.V.A. English professor Stephen Railton has done an extraordinary job in making the audio available. The university's Faulkner at Virginia website provides lots of helpful background information, and lets you browse the recordings by topic. They've all been divided up into snippets and transcribed. You can hear Faulkner read from The Sound and the Fury, but you can also hear him answer specific questions about the novel from interested readers -- for example, "Why doesn't Caddy have her own section?" (Faulkner's answer, though interesting, isn't going to help any English majors answer that exam question.)
You'll find that clip and more on the website's selected clips webpage, which is a great place to start. If you've never heard Faulkner's voice before, you owe it to yourself to listen to a few minutes from one of his readings.
About brainiac
Brainiac is the daily blog of the Globe's Sunday
Ideas section
, covering news and delights from the worlds of art, science, literature, history, design, and more. You can follow us on Twitter
@GlobeIdeas
.
contributors
Brainiac blogger
Kevin Hartnett
is a writer in Columbia, South Carolina. He can be reached
here
.
Leon Neyfakh
is the staff writer for Ideas.
Amanda Katz
is the deputy Ideas editor.
Stephen Heuser
is the Ideas editor.
Guest blogger
Simon Waxman
is Managing Editor of
Boston Review
and has written for WBUR, Alternet, McSweeney's, Jacobin, and others.
Guest blogger
Elizabeth Manus
is a writer living in New York City. She has been a book review editor at the Boston Phoenix, and a columnist for The New York Observer and Metro.
Guest blogger
Sarah Laskow
is a freelance writer and editor in New York City. She edits Smithsonian's SmartNews blog and has contributed to Salon, Good, The American Prospect, Bloomberg News, and other publications.
Guest blogger
Joshua Glenn
is a Boston-based writer, publisher, and freelance semiotician. He was the original Brainiac blogger, and is currently editor of the blog HiLobrow, publisher of a series of Radium Age science fiction novels, and co-author/co-editor of several books, including the story collection "Significant Objects" and the kids' field guide to life "Unbored."
Guest blogger
Ruth Graham
is a freelance journalist in New Hampshire, and a frequent Ideas contributor. She is a former features editor for the New York Sun, and has written for publications including Slate and the Wall Street Journal.
Joshua Rothman
is a graduate student and Teaching Fellow in the Harvard English department, and an Instructor in Public Policy at the Harvard Kennedy School of Government. He teaches novels and political writing.
Get updates
Browse this blog
by category
more on boston.com cars