Posted by Josh Rothman
April 27, 2011 02:34 PM
Michael Eisen is an evolutionary biologist at Berkeley who -- at the risk of oversimplifying -- specializes in flies. A few weeks ago, one of his postdocs went online to order Eisen's lab another copy of The Making of a Fly: The Genetics of Animal Design, and was surprised to discover the selling price on Amazon: $1,730,045.91. Writing at his excellent blog, It Is NOT Junk, Eisen, like a true scientist, figures out the story of the most expensive book on Amazon -- it all comes down, he writes, to "algorithmic pricing."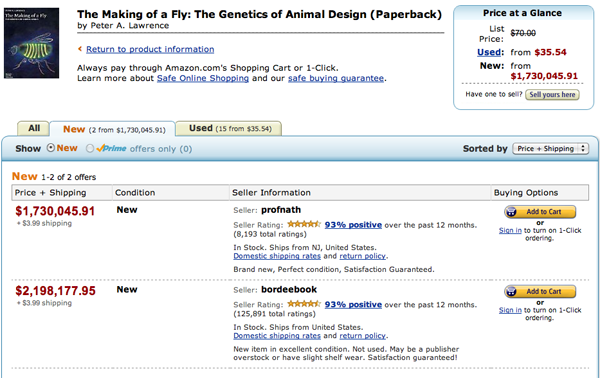 Screen capture from Michael Eisen's blog.
"Amazon," Eisen writes, "listed 17 copies for sale: 15 used from $35.54, and 2 new from $1,730,045.91 (+$3.99 shipping)." The question was: why were the two new copies so expensive? The answer turns out to be that the two booksellers, "profnath" and "bordeebook," were locked in an algorithmic battle. Each day, profnath would use an algorithm to set its price at 0.9983 times bordeebook's price. Then, later that day, bordeebook would notice profnath's new price, and reset its own price to 1.270589 times that amount. Because the two sellers were, as Eisen puts it, "adjusting their prices in response to each other by factors whose products were greater than 1," the prices of the books kept creeping up. As Eisen watched, the price crept up and up, eventually reaching an astonishing $23,698,655.93. (The book's author, Eisen writes, was "appropriately amused and intrigued.")
It makes sense for one seller to algorithmically undersell another -- but why would bordeebook deliberately overprice its copy of The Making of a Fly? Eisen's theory is that bordeebook doesn't actually have the book in stock. If someone orders it -- perhaps because they're a repeat customer, or can't find the book elsewhere -- then profnath can pick the book up somewhere else, and realize a 20% profit. The crew in Eisen's lab, meanwhile, "couldn't help but start thinking about ways to exploit our ability to predict how others would price their books down to the 5th significant digit." Unfortunately, if they've figured out an arbitrage play, they're keeping mum about it.
About brainiac
Brainiac is the daily blog of the Globe's Sunday
Ideas section
, covering news and delights from the worlds of art, science, literature, history, design, and more. You can follow us on Twitter
@GlobeIdeas
.
contributors
Brainiac blogger
Kevin Hartnett
is a writer in Columbia, South Carolina. He can be reached
here
.
Leon Neyfakh
is the staff writer for Ideas.
Amanda Katz
is the deputy Ideas editor.
Stephen Heuser
is the Ideas editor.
Guest blogger
Simon Waxman
is Managing Editor of
Boston Review
and has written for WBUR, Alternet, McSweeney's, Jacobin, and others.
Guest blogger
Elizabeth Manus
is a writer living in New York City. She has been a book review editor at the Boston Phoenix, and a columnist for The New York Observer and Metro.
Guest blogger
Sarah Laskow
is a freelance writer and editor in New York City. She edits Smithsonian's SmartNews blog and has contributed to Salon, Good, The American Prospect, Bloomberg News, and other publications.
Guest blogger
Joshua Glenn
is a Boston-based writer, publisher, and freelance semiotician. He was the original Brainiac blogger, and is currently editor of the blog HiLobrow, publisher of a series of Radium Age science fiction novels, and co-author/co-editor of several books, including the story collection "Significant Objects" and the kids' field guide to life "Unbored."
Guest blogger
Ruth Graham
is a freelance journalist in New Hampshire, and a frequent Ideas contributor. She is a former features editor for the New York Sun, and has written for publications including Slate and the Wall Street Journal.
Joshua Rothman
is a graduate student and Teaching Fellow in the Harvard English department, and an Instructor in Public Policy at the Harvard Kennedy School of Government. He teaches novels and political writing.
Get updates
Browse this blog
by category
more on boston.com cars