Posted by Josh Rothman
January 7, 2011 12:36 PM
When your household drains slow down, you call a plumber. What do cities do when their sewers get slow? They call in sewer flushers (or, in Mexico City, sewer divers) who navigate the subterranean network of tunnels and drains to find and destroy the blockages.

Rob Smith, of Thames Water. Screen capture via Edible Geography.
In London, The Guardian follows Rob Smith, the avuncular Head Flusher of Thames Water, as he descends to search for a "fatberg" that's blocking a sewer near Northumberland Street. As you can see in this disgusting-yet-mesmerizing video, the fatberg is composed primarily of cooking oil and baby wipes, neither of which should be in the sewers in the first place. (Fatbergs are especially common in neighborhoods with cheap restaurants, which save money by dumping their oil down the drain.) There's a gaggle of condoms mixed into the 'berg as well, but Smith is unsurprised: "You're at the bottom end of Piccadilly now, so it's that sort of area, isn't it?"
He carries a gas monitor and gas mask in case a sudden cloud of hydrogen sulfide or methane comes his way; if he were caught unprotected in a gas cloud, he could pass out and die. It's not all bad, though. At other times the sewers suddenly fill with the "perfume smell" of shampoos and soaps. The smell of the sewer follows a daily rhythm, and varies with geography. "I've been to some more exclusive areas of London," Smith says, "where I think it'd be fair to say that you can pick up those people who bathe in rather expensive bath oils . . . affluent effluent!"
Smith explains that if it weren't for the team of flushers, London's sewers would regularly overflow during even ordinary rainstorms. His Dickensian job keeps the city running.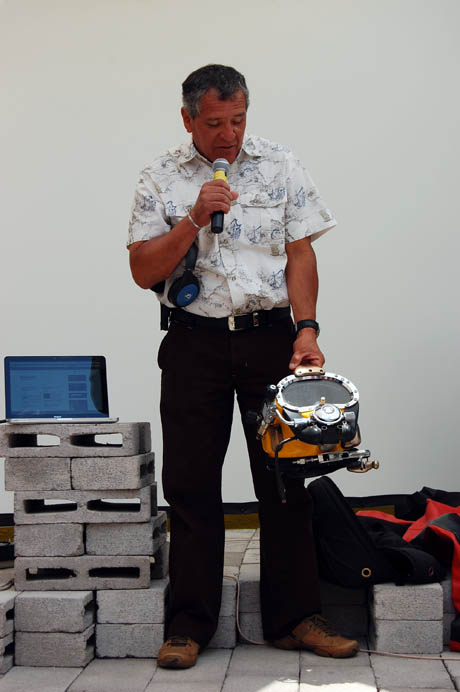 Julio Cámara, one of Mexico City's two sewer divers. Photo from Edible Geography.

Writing - perhaps ironically - at Edible Geography, Nicola Twilley ups the ante: she introduces Julio Cámara, one of Mexico City's two sewer divers. Cámara says he believes he is one of only two in the world. Mexico City is situated at the bottom of a river basin, and its sewers handle unimaginable quantities of water - so much that parts of the city are sinking year-on-year.

In a fascinating interview with Twilley, Cámara explains that he doesn't walk through the sewer system, but dives into it, wearing a special hermetically sealed diving suit connected to the surface by a hose. He wanders around blind because the water is so murky, feeling his way through the tunnels, and communicating with a team on the surface who direct him toward the obstruction. They can see him on an animated map of the sewer system as he progresses from manhole to drain to tunnel. "Montezuma's treasure may be down there," Cámara says, "but I will most likely never find it, because you can't see anything - all you can do is feel blockages.... I've had blockages caused by pieces of carpets, pieces of cars, or even body parts." He's an expert at distinguishing different objects by feel.

The dives, which can last as long as six hours, fill Cámara with fear. If his air hose were to break, he'd be trapped; like Smith, he worries that he'll be cut or suffer a needle stick. The water is dirty and filled with nails, syringes, and glass. But Cámara loves his job, and the feeling, he says, "that I'm doing a lot of good for a lot of people without them knowing." His enthusiasm for diving - and for cool diving equipment - is also a major motivation in his job. (Sewer diving requires specialized equipment that Cámara says he couldn't get elsewhere.) He still goes scuba diving on vacation: "The sea is one world," he says, "and the sewage is another world. In the sewage I can't see anything and - sorry for the word there's **** everywhere, and in the sea I see fishes and it's beautiful." (You can glimpse the world of sewage for yourself in this amazing video at National Geographic, of another Mexico City sewage diver, Carlos Barrios, diving into a relatively shallow city sewer. Barrios was an accountant for the city before he switched departments.)

Sewers don't run themselves - but, even so, it's surprising to see just how much human intervention is required. The truth is that a city's sewers will always be insufficient to their massive task, simply because cities are always growing. WNYC's Radiolab, in a fantastic show on cities, tells an amazing story about how New York's sewers and tunnels have grown over the years. Unknown numbers of men have died digging, blasting, and shoring up underground waterways in a never-ending quest to keep up with demand.

Someday, perhaps, the world's biggest cities will learn to reduce water use and waste. The big lesson for now? Don't put things down the drain - because, eventually, someone has to fish them out.

[Via the always-excellent Edible Geography.]
About brainiac
Brainiac is the daily blog of the Globe's Sunday
Ideas section
, covering news and delights from the worlds of art, science, literature, history, design, and more. You can follow us on Twitter
@GlobeIdeas
.
contributors
Brainiac blogger
Kevin Hartnett
is a writer in Columbia, South Carolina. He can be reached
here
.
Leon Neyfakh
is the staff writer for Ideas.
Amanda Katz
is the deputy Ideas editor.
Stephen Heuser
is the Ideas editor.
Guest blogger
Simon Waxman
is Managing Editor of
Boston Review
and has written for WBUR, Alternet, McSweeney's, Jacobin, and others.
Guest blogger
Elizabeth Manus
is a writer living in New York City. She has been a book review editor at the Boston Phoenix, and a columnist for The New York Observer and Metro.
Guest blogger
Sarah Laskow
is a freelance writer and editor in New York City. She edits Smithsonian's SmartNews blog and has contributed to Salon, Good, The American Prospect, Bloomberg News, and other publications.
Guest blogger
Joshua Glenn
is a Boston-based writer, publisher, and freelance semiotician. He was the original Brainiac blogger, and is currently editor of the blog HiLobrow, publisher of a series of Radium Age science fiction novels, and co-author/co-editor of several books, including the story collection "Significant Objects" and the kids' field guide to life "Unbored."
Guest blogger
Ruth Graham
is a freelance journalist in New Hampshire, and a frequent Ideas contributor. She is a former features editor for the New York Sun, and has written for publications including Slate and the Wall Street Journal.
Joshua Rothman
is a graduate student and Teaching Fellow in the Harvard English department, and an Instructor in Public Policy at the Harvard Kennedy School of Government. He teaches novels and political writing.
Get updates
Browse this blog
by category
more on boston.com cars