Posted by Jim Botticelli
October 22, 2013 10:13 PM
http://www.youtube.com/watch?v=p5whptzs1g8
from recording artist
Tony Conigliaro
In these heady days, DOB takes a look back at another glorious period, by providing this excerpt from Rico Petrocelli's
Tales from the Impossible Dream Red Sox
. This excerpt is from the Tony Conigliaro chapter of his book about the 1967 team. Rico Petrocelli starred for the Red Sox from 1965-76.
"Tony Conigliaro had it all: tremendous talent, matinee idol looks, charisma, and personality. The only thing he didn't have was luck, and in the end that killed him.
An eligible bachelor, Tony C. was easily the most popular player on the Red Sox, especially with the ladies. He certainly took pleasure in their company. But while he dated actresses and Playboy bunnies, he wasn't a playboy like Bo Belinsky, who had achieved instant stardom by throwing a no-hitter for the Angels in his rookie year in 1962, begun dating buxom actress Mamie Van Doren, but by 30, he had left the best years of his career in bars and boudoirs and was struggling to hang on in the majors. Tony didn't like to go to fancy nightclubs. In fact, he preferred to stay out of the public eye as much as possible.
When the Red Sox were on the road, Tony, Mike Ryan, and I liked to stay in our hotel rooms and practice singing three-part harmonies, the kind of doo-wop songs you might have heard sung on city street corners in the 1950s. Mike was usually off key. Tony would grimace, shake his head, and say: "Roomie, you gotta work on that or we're going to fire you from the group!" And Mike would assure him: "No, no! I'll work on it! I'll work on it!"
Tony had been signed to a recording contract and cut a few records. He'd be a guest on TV shows when he had the chance, and when he'd come back we'd ask him what it was like to be on television with Merv Griffin, and he'd excitedly tell us all about it.
I'm sure a lot of fans thought that Tony was full of himself and probably imagined that when he was at the ballpark he'd grab a bat and use it like a microphone. Nothing could have been further from the truth.
Once Tony got to the park he'd leave all that extracurricular stuff behind him and focus on the game. He loved to hit, and the first thing he'd do was get his bat, start feeling it, and maybe bone it a little. Once he put on that Red Sox uniform, he was ready to play baseball. He had great concentration that way. Nothing distracted him.
At the age of 19 he'd jumped all the way from the lowest minor league to the majors, and at the age of 20 he'd led the American League in homers. By the time he was 22 he'd become the youngest player in AL history and second-youngest player in major-league history to hit 100 career homers.
That Tony would eventually slug 500 homers and hit his way into the Hall of Fame was a foregone conclusion, and if he had just been able to stay away from all those broken bones it would have come to pass.
But Tony was not only a chick magnet, he was a magnet for stray pitches. Five times he had bones broken by pitches, including the one that broke his shoulder blade five months earlier in spring training. He always recovered quickly, and he never showed any fear at the plate. But the pitch that hit him on the night of August 18 fractured his cheekbone, nearly blinded him, and crushed his career. He wasn't even 23 years old yet, and, except for a miraculous comeback that degenerated into a cruel two-year tease, his baseball career was effectively over and his life would never be the same.
It was a steamy Friday night with a near-capacity crowd of 31,027 on hand to see the first game of a four-game set with the Angels, who had just swept us in Anaheim the previous weekend.
Gary Bell had retired the first 12 Angels in order when we came to bat in the bottom of the fourth against Jack Hamilton, a hard-throwing right-hander with a spitball and an acceptable reputation for coming in on hitters. Hamilton had allowed only one hit in the first three innings, a single by Conigliaro.
George Scott led off the fourth with a single but was thrown out trying to stretch it into a double. Some wise guy threw a smoke bomb from the stands into left field, and the game was delayed for about 10 minutes while we waited for the air to clear. Did that delay get Hamilton out of his rhythm? We'll never know.
Finally Reggie Smith stepped into the box and flied to center for the second out. Tony set himself in the batter's box, crowding the plate as always, while I knelt in the on-deck circle. I always believed there was a spot where Tony couldn't see the inside pitch. If you threw it to the right spot, he'd hit that ball nine miles. But then there was this blind spot, a little more inside. Sometimes he moved too late to get out of the way, and sometimes he never moved at all.
I saw Hamilton's first pitch coming in and knew it was head high. But Tony didn't start to react until the last fraction of a second. Instinctively he threw up his hands to protect his head, but not nearly in time. The ball crashed into the side of his face with a sharp crack that I swear could have been heard clearly all over that noisy ballpark. It sounded like the ball hit his helmet, so my immediate reaction was relief that the ball had struck plastic instead of flesh. But the sound was probably his cheekbone breaking.
In his desperate scramble to get out of the way of the ball, Tony had dislodged his helmet, and the ball struck him flush in the left side of his face, just below the eye socket. Tony went down like he'd been clothes-lined by an NFL cornerback and didn't move.
Except for umpire Bill Valentine and catcher Bob Rodgers, I was first on the scene. I didn't like what I saw. Tony's face was swelling up like there was somebody inside his skull blowing up a balloon. The first thing I thought was he was going to lose his left eye. Blood was pouring out of his nose. I didn't know what else to do, so I knelt down beside him, loosened his belt a little so he could breathe easier, and whispered into his ear that everything was going to be all right.
By now the rest of the team had gathered around him, worried looks on all their faces. The crowd was hushed. Suddenly Tony's legs kicked, as if in a belated reaction to what had just happened. He started to regain consciousness, but not all the way. It was obvious he was seriously injured.
The two trainers, Buddy LeRoux and California's Freddy Frederico, attended to him and tried to make him comfortable, but there wasn't much else they could do for him. After several minutes passed it became evident he wasn't going to shake this off, so someone called for a stretcher.
Jim Lonborg, Joey Foy, and Mike Ryan—three of our biggest guys—gently lifted up Tony's inert body and placed it onto the stretcher. He was carried into the clubhouse where Dr. Tom Tierney, the club physician, was already waiting.
Tony became fully conscious in the trainer's room. "It hurts like hell," he told the doc. "I heard a hissing sound, and that was all."
"I thought I was going to die," he said later. "Death was constantly on my mind."
By now his bruised face was so swollen his left eye was completely shut. An ambulance arrived, and Tony was rushed across the Charles River to Sancta Maria Hospital in Cambridge, where a neurosurgeon, Dr. Joseph Dorsey, was waiting to examine him.
The diagnosis was a shattered cheekbone. Doctors would have to wait until the swelling went down to determine if there was any permanent damage to his eye. Dr. Dorsey said that if the ball had struck Tony an inch higher and to the right, he might have been killed.
When the Fenway Park crowd saw Tony being taken away on a stretcher, the fans began booing Hamilton, who had stayed on the mound with his arms folded across his chest. Later Hamilton insisted he hadn't intentionally beaned Tony.
"I haven't hit anyone all year," he said, which was pretty much true. Tony was the first batter he'd hit since being traded to the Angels from the New York Mets in June. He had hit one batter while with the Mets. "I certainly wasn't throwing at him. I was just trying to get the ball over. Tony stands right on top of the plate. He hangs over the plate as much as anyone in the league." Which was also true.
Although our thoughts were with Tony, we had to finish the game. Throughout the remainder of the contest, whenever someone came back into the dugout he'd ask: "What's the word on Tony? Have you heard anything about Tony?"
I was the first batter to face Hamilton after Jose Tartabull went in to run for Tony. I'm sure most fans can't understand how it's possible to stand at the plate after you've seen something as terrible as what just happened to Tony and not imagine it's going to happen to you. One would think the batter's box is the last place on earth you'd want to be. I won't pretend it's easy, but as a professional ballplayer you have to learn to beat back fear and hit. If you can't, you'll never make it out of the lower minor leagues. If you play long enough, every batter will get hit in the head sooner or later. You just pray the ball doesn't do any lasting damage.
I got beaned in the head three times during my career. Twice I took pitches off the top of my helmet and nothing happened. The third one hastened the end of my career.
It happened seven years after Tony's beaning, in September of 1974. Luis Tiant was pitching for us and getting hit hard by the Milwaukee Brewers, and he got mad and hit one of their guys. So I knew I was going down when I came to bat. I accepted that as part of the game, and I never really minded it because the ball thrown at your head is usually the easiest one to see, so you can get out of the way.
But this time it was a Sunday afternoon at Fenway, and the glare off the center-field bleachers was blinding. Jim Slaton started his wind-up, and that was the last time I saw the ball. I strode toward where I imagined the ball was going to be, and I heard the umpire yell: "Watch out!" I tried to duck out of the way, but I still had no idea where the ball was. It struck me right behind the left ear, below the helmet.
That pitch put me out for the rest of the year, and when I retired in the spring of 1977 at the age of 33 I was still feeling its effects. Slaton's pitch caused inner-ear damage, and I had trouble focusing my eyes after that.
So it wasn't fear I was feeling when I stepped in against Jack Hamilton; it was rage. I was so mad I wanted to hit one out of the ballpark to get back at him. I nearly did. I belted a 420-foot triple into the center-field triangle to chase home Tartabull with the first run of the game and scored myself when shortstop Jim Fregosi mishandled the relay. I walked in the sixth inning and scored on a single by Bell, putting us ahead 3-0. Bell gave up a couple of solo homers to Jimmie Hall late in the game but finished with a four-hitter, and we hung on to win 3-2.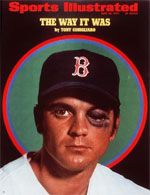 Hamilton tried to visit Tony in the hospital the next morning but was denied admittance to his room. Few visitors were allowed, although Mr. Yawkey was one of them. The press was barred from interviewing him, but a photographer was permitted to snap a photograph. It wasn't a pretty picture. There was a huge, ugly, shiny black bruise around his eye that was still swollen shut. The initial prognosis was that Tony would be disabled for three weeks.
He wouldn't play again for 18 months. The fracture healed, but there was a hole in his retina that could not be repaired. Tony missed the entire 1968 season and figured his baseball career was over. But his vision suddenly got better, and he made a miraculous comeback in 1969, playing 141 games and hitting .255 with 20 homers and 82 RBIs while being named the AL's Comeback Player of the Year.
In 1970 it appeared he was back all the way as he enjoyed the best year of his career, hitting .266 with 36 homers and 116 RBIs. But his vision began to deteriorate late in the season. The Red Sox, again concerned about his future, traded him to the Angels in October, and by the following spring Tony could barely see out of his left eye. Midway through the 1971 season, hitting a miserable .222 with only four homers and 15 RBIs in 74 games, he announced his retirement from baseball and virtually disappeared from public life.
Three years later his vision began to improve again, and Tony wanted to attempt another comeback. The Red Sox were skeptical but invited him to spring training in 1975. He was rusty and struggled. But a couple of encouraging games near the end of the exhibition season convinced the Red Sox to keep him, and he was the designated hitter on Opening Day at Fenway Park.
When Conigliaro approached the plate for his first at-bat, a leggy, well-dressed, attractive female admirer sashayed down from the grandstand into the box seats and tossed a bouquet of red roses onto the field. At the age of 30 Tony still had the looks, the charisma, and the personality. But his talent had eroded.
The Red Sox kept him until mid-June, although he was barely playing by then. We were on our way to winning our first pennant since 1967, and the club could not afford to carry him any longer after we acquired second baseman Denny Doyle in a trade with the Angels. Tony was hitting .123 with two homers and nine RBIs in 21 games when the Red Sox asked him to go back to the minor leagues to try and resurrect his career.
Tony C. declined and retired for good.
Tony moved out to San Francisco and became a sportscaster at a local television station. On January 3, 1982, he flew to Boston to interview for a job as the analyst for Red Sox games on cable television. As his brother Billy was driving him back to Logan Airport, Tony told him he was confident he was going to get the job. While he was riding in the car he suffered a massive heart attack. Billy sped to Massachusetts General, the nearest hospital, but Tony was in a coma by the time they reached the emergency room. He never fully recovered and spent the remainder of his life in a nursing home in nearby Salem.
On February 24, 1990, a year in which he might have been triumphantly entering the Hall of Fame except for that one pitch on a hot summer night back in 1967, Tony C. passed away. He was 45 years old."

"Like" Dirty Old Boston on Facebook. Dirty Old Boston book soon from Union Park Press

About the author
Jim Botticelli, a 1976 Northeastern University graduate, is a retired Boston Public Schools teacher. In college, he drove a cab and learned the city's cow paths. An avid collector of
More »
Recent blog posts
Get updates
Browse this blog
by category