Posted by David D'Onofrio
September 7, 2013 08:05 AM
It was just a couple of weeks ago that the Red Sox awoke in Los Angeles to find themselves a few percentage points behind the Rays in the American League East, and with less than a 50-50 shot of winning the division they'd led for a vast majority of the season.
It was the lowest their probability of being East champs had been in August, according to the odds calculators at coolstandings.com, and a daunting road was immediately ahead. At that point they had two games still to play with the Dodgers, then the hottest team in baseball, and after that they'd face the Orioles, Tigers, and Yankees in three of their next four series. Baltimore had been a thorn in their side for two years, while Detroit had the AL's best record at that point, and New York was warm then and the league's hottest team by the time the Sox headed for the Bronx.
But Boston took the final two in LA, and flew home with a 57.7 percent chance of winning the division. Then it took two of three from the O's, and it bumped to 76.6. With a sweep of the White Sox it moved to 91.9. In winning the three-game series with the Tigers it moved to 92.7.
And now, after Mike Napoli's grand slam erased a five-run seventh-inning deficit, then they scored four times in the eighth, and Friday's 12-8 triumph gave them the first two tilts of this weekend set with the Yankees, the likelihood of the Sox winning the East is considered to be a 98.6 percent certainty.
With a 99.9 percent probability that a 9.5-game cushion is enough, and they'll at least make the playoffs.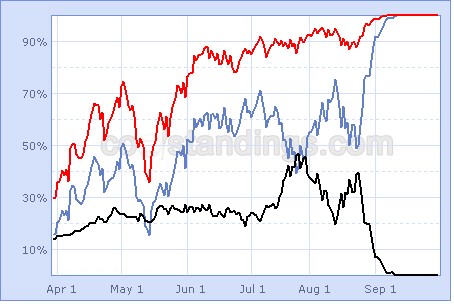 (Blue represents Boston's chances of winning the division, black is its chance of being a wild card entry, and red signifies its chance of making the playoffs.)
As the calendar flipped to September with their lead expanding those memories of 2011 might've justifiably come flooding back, and, of course, that season's collapse proved that nothing is locked in until it's clinched. On Sept. 3 of that year the Sox were cast as a 99.6 percent certainty of a postseason berth, and though there were some valleys in between, they peaked back up to 95.2 percent when there were just six games to go. They were even the favorites going into the final game, however their likelihood of a playoff spot ultimately wound up at 0.
That could happen again this year, of course. But don't count on it. Thanks to 11 wins in 13 games, and thanks equally to the Rays' league-worst 4-10 record over that same span, Boston has gained 7.5 games on Tampa Bay in the past two weeks -- and the 86-57 record it takes onto the field Saturday is actually one game better than the record they had with 19 games to play in 2011.
At this point in that season, they'd just lost the second of what would become a five-game skid, and after sending Andrew Miller and his rate of 5.4 walks-per-nine innings as a starter to the mound, they followed with John Lackey's torn elbow ligament and the infamous Kyle Weiland. That sequence should've been a clue that the percentages declaring their playoff probability were probably a bit inflated.
Just as the depth, quality, and competitiveness of the pitchers they're sending out there now are an indication that the current projections are not.
BEYOND THE BOX SCORE

Red Sox 12, Yankees 8

Hitters

15-for-41, 7 BB, 13 K, 2 2B, 3 HR

Shane Victorino, CF
2-for-5, 2 R, 2 RBI, 2 K, HR: He had seven homers in his first 93 games this season -- and seven homers in his next 17 contests. The only hitters in baseball with as many over that span? A couple of Sox-turned-A's: Coco Crisp (8) and Brandon Moss (7).
Jonny Gomes, LF
0-for-3, 2 K: Batting second for the 14th time, he dipped to .206 against lefties before giving way to Mike Carp, who worked a walk and crushed a hard single to center in his two trips.
Dustin Pedroia, 2B
3-for-5, R, RBI, BB, 2B: In the process of his 13th three-hit game he stretched his team lead in doubles, with No. 37 also good enough to keep him at fourth in the American League.
David Ortiz, DH
0-for-5, R, BB, 2 K: Not sure what to make of this, but it's the fifth time this season that Ortiz has gone 0-for-5 -- and in those games the Sox offense is averaging seven runs per contest.
Mike Napoli, 1B
3-for-3, 3 R, 4 RBI, 2 BB, 2B, HR: It's just the second time since July 2010 that Napoli has finished a game 3-for-3, and just the second time in that span he's reached five times via hit or walk. His OPS is 1.305 over his last 11 games, and with a career .302 average in September, history says he could stay hot.
Daniel Nava, RF
1-for-3, RBI, 2 BB, K: Reaching three more times makes it 41 straight starts getting on by hit or walk for Nava, moving him past Mike Trout for the AL's second-longest streak this season, and moving him into fifth in the league in OBP (at .392).
Stephen Drew, SS
1-for-5, 2 RBI, K: He scored a run with a groundout early, then used his lone hit of the night to stretch the lead from three to four in the eighth. That he played over Xander Bogaerts against the left-handed Andy Pettitte speaks to how pleased John Farrell is with Drew right now.
David Ross, C
2-for-5, R, RBI, 3 K: He began and ended the top of the eighth with strikeouts, but no worries there because of what happened in between. And because he'd already singled home a run in the second.
Will Middlebrooks, 3B
2-for-5, 2 R, RBI, K, HR: Entering Friday, the Yankees and Angels each had only five homers out of the No. 9 spot in the lineup this season. Thanks to Middlebrooks, the Red Sox have three in the past three games.

Pitchers

9 IP, 8 ER, 7 H, 8 BB, 9 K, HR

Felix Doubront, SP
3.2 IP, 6 ER, 3 H, 6 BB, 2 K, HR: It was the second straight start of 3.2 innings for the lefty, and the fourth time in six outings that he failed to get an out in the fifth. Perhaps it's not a lock that Ryan Dempster is the one who loses his spot in the rotation once Clay Buchholz returns.
Brandon Workman, SP
1.1 IP, BB, 2 K: He was excellent in the seventh, getting the Yankees in order after the Sox tied the game, and giving the bats to get back up while they were still warm. Certainly encouraging.
Franklin Morales, RP
0.2 IP, BB, K: Morales was an interesting choice to come in with a man on and a four-run lead in the eighth. He walked one and tossed a wild pitch to incite some fear, but ultimately he whiffed Brett Gardner to avoid damage.
Koji Uehara, RP
IP, 2 K: Farrell was taking no chances at the end of two crazy nights in the Bronx. Though it was a four-run lead, and thus a non-save situation, he brought in Uehara to make sure the zaniness didn't continue. It didn't. Twelve pitches. Eleven strikes. Twenty-seven consecutive hitters retired by the righty. Game over.
About the author
Dave D'Onofrio is a sports journalist who focuses on the Red Sox and Patriots, and also writes Boston.com's "Off The Field" blog about what Boston's sportsmen do away from the
More »
Get updates
Browse this blog
by category