Posted by Carly Carioli
April 22, 2013 11:13 AM
1. ZOOEY DESCHANEL HAD ABSOLUTELY NOTHING TO DO WITH THE BOSTON MARATHON BOMBINGS . . .
But you wouldn't know that from reading the Closed Captioning on this Fox TV affiliate: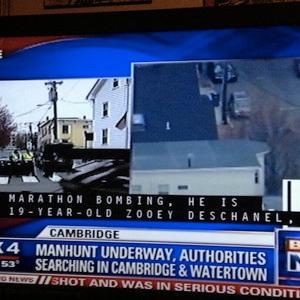 ---
2. . . . AND DESPITE WHAT CONSPIRACY THEORISTS THINK, NEITHER DID "NAKED GUY":
Wrongly accused naked guy: an inspiration to us all to get back to the gym. Never know... cd happen to any one of us. twitter.com/MickPaddyMack/…

— Michael Patrick MacD (@MickPaddyMack) April 19, 2013
Remember "naked guy" from the Watertown manhunt? The dude who was stripped naked, briefly detained by police, and quickly released while they were searching for Suspect #2? He's now being presented as "evidence" by wingnuts insisting he was actually deceased suspect Tamerlan Tsarnaev. [Warning: graphic photo/video at this link.]
---
3. INTERNET-FAMOUS BOSTON MUSICIAN AMANDA PALMER WROTE "A POEM FOR DZHOKHAR" ABOUT CAPTURED SUSPECT DZHOKHAR TSARNAEV.
It includes the line, "you don't know how precious your iphone battery time was until you're hiding in the bottom of the boat." Reaction was decidedly mixed.
.@amandapalmer Amanda, he killed an 8 yr old. He would have killed 100s of kids if given the chance. How on earth is that worthy of empathy?

— ginalou (@ginalou) April 21, 2013
now that everybody's panties are in a twist, i'd like to say: the poem is actually about more than you think it is. read it again.

— Amanda Palmer (@amandapalmer) April 21, 2013
---
4. GAWKER'S NEWS EDITOR REALLY, REALLY DIDN'T CARE FOR IT.
here it is the worst poem anyone ever wrote amandapalmer.net/blog/20130421

— max read (@max_read) April 22, 2013
I can't believe police spent the day arresting Reese Witherspoon while Amanda Palmer was committing a literal war crime on her blog

— max read (@max_read) April 22, 2013
FBI Agents Interviewed Amanda Palmer Years Before She Wrote the Worst Poem Ever, Determined She Was Not a Threat

— max read (@max_read) April 22, 2013
---
5. MAYBE SHE CAN SEND IT TO THESE FOLKS.
We'd love for you to #RecordAPoem for #Boston. See our Facebook page for ideas and follow the directions here: bit.ly/10tis2p

— Poetry Foundation (@PoetryFound) April 21, 2013
---
6. THERE WILL BE A MOMENT OF SILENCE TODAY AT 2:50 PM FOR THE VICTIMS OF THE MARATHON ATTACK.
Please join me, with @massgovernor and One Fund Boston, in a moment of silence Monday afternoon. ow.ly/i/1Wlji #OneBoston

— Mayor Tom Menino (@mayortommenino) April 21, 2013
---
7. . . . AND A MEMORIAL ON WEDNESDAY TO HONOR THE MIT POLICE OFFICER KILLED DURING THE MANHUNT FOR THE SUSPECTS.
MIT Police will hold a public memorial service for slain Officer Sean Collier at noon Wednesday at the university's athletic complex.

— Boston.com News (@BostonDotCom) April 21, 2013
---
8. YOU CAN NOW VISIT A NEW #BOSTONSTONG MURAL IN MISSION HILL . . .
New #bostonstrong graffiti on a building off Tremont Street twitter.com/Knothea/status…

— Alli Knothe (@Knothea) April 21, 2013
---
9. . . . AND READ PATTON OSWALT ON A NEWBURY STREET TRASHCAN.
@pattonoswalt Your inspiring words have been memorialized on a garbage can on Newbury St.. But seriously, thank you. twitter.com/River_Vox/stat…

— River Vox (@River_Vox) April 22, 2013
---
10. DORCHESTER'S ST ANN PARISH REMEMBERED 8-YEAR-OLD VICTIM MARTIN RICHARD DURING A SUNDAY MASS:

Boston Globe photo by Aram Boghosian
"We weep for the last week,'' Reverend Sean M. Connor told parishioners as the Mass began. During the homily, he cradled a young child in his arms, as he urged parishioners to learn love from the events of last week. "If we are not changed for the better ... then we've learned little or nothing."
---
11. AND AT FIRST PARISH CHURCH IN HARVARD SQUARE, RALPH WALDO EMERSON PROVIDED INSPIRATION FOR A CONGREGATION STILL TRYING TO HEAL . . .
"Let our hearts be broken." Stunning sermon, this morning, Harvard Square: Listen: bit.ly/17c7DWN #Boston

— Paige Williams (@williams_paige) April 21, 2013
"What do we do with our pain? What do we do with our grief? What do we do with our anger?

First, we must feel them."
---
12. SYRIA POSTED A MESSAGE OF SOLIDARITY WITH BOSTON. AND BOSTON RETURNED THE FAVOR . . .
Boston responds to Syria... Show the love! twitter.com/RomanRassoul/s…

— Roman(@RomanRassoul) April 21, 2013
---
13. THROUGH THE POWER OF REDDIT, THANKFUL CITIZENS CONTINUED TO COMMIT RANDOM ACTS OF PIZZA:
Reddit users sent the #Boston police some pizza. bit.ly/13ogPFo they responded bit.ly/ZA7kCQ

— Steve Annear (@steveannear) April 21, 2013
---
14. AND THESE PEOPLE WERE GIVING OUT FREE HUGS ON BOYLSTON STREET . . .
Free Hug Brigade on Boylston Street twitter.com/BostonTweet/st…

— BostonTweet (@BostonTweet) April 21, 2013
---
15. AND OVER 100 BOSTON BANDS HAVE DONATED SONGS TO BENEFIT THE ONE FOUNDATION. YOU CAN HAVE ALL OF THEM FOR THE PRICE OF . . . ONE DOLLAR.
You can thank the awesome Boston music blog Allston Pudding:


16. THE MAKESHIFT MEMORIAL ON BOYLSTON STREET WAS MOVED TO THE SIDEWALK, AND IS HEADED SOON FOR COPLEY SQUARE:
---
17. IN RELATED NEWS, BOYLSTON STREET IS EXPECTED TO RE-OPEN WITHIN DAYS . . .
According to the Globe:
"It's time to move this city forward," said Mayor Thomas Menino, who stood from a wheelchair to make the announcement of the plan at the afternoon press conference. "We've been working hard to develop a plan to open Boylston Street, now the most famous street in the world."
---
18. BOSTON CHECHENS -- THE LARGEST ENCLAVE OF CHECHENS IN THE US -- REPORTEDLY "DID NOT LIKE THIS [TSARNAEV] FAMILY VERY MUCH"

Photo by @rosiepgray via Instagram
"The other Chechens did not like this particular family very much." buzzfeed.com/rosiegray/chec…

— Rosie Gray (@RosieGray) April 21, 2013
BuzzFeed's Rosie Gray reported:
Fatima Tlisova, a Voice of America journalist from Russia who has covered Chechnya and Chechens extensively and lived in Watertown, Mass. for a number of years, said that she knew of a smattering of Chechens in California and Florida, as well as "five or six families in Boston." . . .

. . . Tlisova said that the other Boston Chechens she knew didn't particularly care for the Tsarnaev family.

"When I was in Boston I'd heard of the Tsarnaevs," Tlisova said. "I left Boston in 2010. Before that the other Chechens said that this family didn't care about religion, the father was drunk man, all this stuff."

"So the other Chechens did not like this particular family very much, I don't know why," she said.
---
19. A REPUBLICAN CANDIDATE FOR MASSACHUSETTS' OPEN SENATE SEAT WANTS TO REVOKE DZOKHAR TSARNAEV'S U.S. CITIZENSHIP.
I'm calling for the revocation of the terrorist's U.S. citizenship. My statement: bit.ly/11s6Zkg #MAsen #MApoli

— Mike Sullivan (@MikeSullivanMA) April 21, 2013
Michael Sullivan, a former U.S. Attorney, was interviewed by MassLive.com:
"After making false statements under oath and committing these acts of terror against our nation and its citizens, Dzhokhar Tsarnaev has renounced any alleged loyalty to our country and has forfeited the gift of U.S. citizenship our great nation has bestowed upon him," Sullivan said in a statement. "It should be revoked as quickly as the law allows."
---
20. BUT THAT'S NOTHING COMPARED TO WHAT A NEW YORK STATE SENATOR TWEETED ABOUT DOING TO HIM . . .
So, scum bag #2 in custody. Who wouldn't use torture on this punk to save more lives?

— Greg Ball (@ball4ny) April 20, 2013
Despite a public outcry, he's not backing down from that position:
"On most days, New York State is terrorist target #1, and playing paddy cake with mass murdering killers is not effective in my opinion . . . . One of the questions to be asked is this: is "torture" ever justified in the war against terror, if it can save lives? I am not shy in joining those who say yes, and I believe we must give those tasked with protecting us every constitutional and effective tool to do so."
---
21. DURING FRIDAY'S MANHUNT, AT LEAST A QUARTER OF A MILLION OF US LISTENED TO THE CHASE ON AN INTERNET POLICE SCANNER. SO ARE POLICE SCANNERS + TWITTER THE NEW CABLE NEWS?
According to AllThingsD:
"The scanner in question was set up in an anonymous home in Framingham, Mass. The owner had inexplicably placed his radio in the bathroom at the base of the toilet, trained a live Webcam on it, and streamed it to Ustream."
---

22. IF YOU WERE LISTENING TO THE SCANNER, THIS WILL NOT BE NEWS: WATERTOWN POLICE OFFICERS ARE TOTALLY BADASS.
While waiting for backup, a single Watertown police officer engaged in a shootout with the suspects early Friday morning -- and employed a tactic straight out of a Die Hard movie, according to Watertown police chief Edward Deveau.
The officer put his car in gear and jumped out of it, hoping they would think he was still in it as he fired from behind a tree, Deveau said.
---
23. JUNK FOOD MAY HAVE SAVED THE CARJACKING VICTIM'S LIFE . . .
From the L.A. Times account of what happened to the driver of the car that was hijacked by the bombing suspects:
Cambridge Police told The Times that the Mercedes driver escaped when the brothers went inside a Shell gas station on Memorial Drive in Cambridge to buy snacks.
---
24. AND HIS CELLPHONE HELPED LEAD POLICE TO THE SUSPECTS.
According to the Boston Globe:
The two brothers let the driver out unharmed, but the driver's cellphone was still in his car, said Deveau. Police "pinged" the phone to determine where it was, he said, which alerted police that the suspects were in Watertown.
---
25. MIRACLES HAPPENED.
Despite losing his entire blood supply -- that's right, all of his own blood -- MBTA Police Officer Richard Donahue, who was hit by a bullet that severed his femoral artery during the Watertown shootout, was resucitated after 45 minutes and "should be able to recover and to walk again," according to the LA Times.
---
26. THIS WEEKEND'S OTHER HEROES: COMFORT PUPS.
Many runners here, stopped on their routes, petting support dogs. @bostondotcom twitter.com/EvanMAllen/sta…

— Evan Allen (@EvanMAllen) April 20, 2013
Meet the five golden retrievers trying to help Bostonians recover after the marathon bombings. bzfd.it/11huL3E twitter.com/BuzzFeed/statu…

— BuzzFeed (@BuzzFeed) April 18, 2013
The "Comfort Dogs" visited #Boston Marathon victims at the hospital bostonmagazine.com/news/blog/2013… Photo: twitter.com/BostonMagazine…

— bostonmagazine.com (@BostonMagazine) April 18, 2013
Comfort dogs arrive in Bostontwitter.com/krupali/status…

— Glenn Greenwald (@ggreenwald) April 17, 2013
---
27. OH, BTW: THE "MAKE WAY" DUCKLINGS ARE #BOSTONSTRONG:
The ducks should make us all smile. And we're due some smiles. twitter.com/GlobeCaleb/sta…

— Caleb Solomon (@GlobeCaleb) April 20, 2013
About RadioBDC blog
Welcome to the new RadioBDC Blog, featuring the latest from the crew in the evolution of the Boston.com radio station, music news and local concerts and events.
More »
Contributors
Adam 12

Not only is Adam 12 Boston.com Radio's Production Director, he also hosts afternoons. 12 is a longtime fixture on the Boston scene, and when he's not out and about in the city, he's trekking around New England with his kids.
Julie Kramer

Julie enters the building every day with a big smile and trough of freshly brewed coffee. She's Boston.com Radio's Music Director and mid-day hostess, and will deliver Lunch At Your Desk every day from noon to 1 PM.
Henry Santoro

Henry's always on the lookout for news. He's Boston.com Radio's News Director and Morning Presenter. He's also a music and art collector, and is a world-class cook with over 5,000 cookbooks in his library.
Paul Driscoll

Paul Driscoll is Boston.com Radio's Program Director who has the best ears in the business. Paul gets dozens of phone calls and visits a day, from bands and record labels looking to get their music played. Some even leave an apple on is desk.
Steph Mangan

Steph Mangan hosts Grrl Power and LocalBDC. When she's not at the studio, she is constantly on the look out for up-and-coming local bands and attending shows at Boston's many venues. She is an avid enthusiast of burritos and denim jackets.
Connect with us
Recent blog posts
Get updates
Browse this blog
by category